Hugh Jackman coming to an arena near you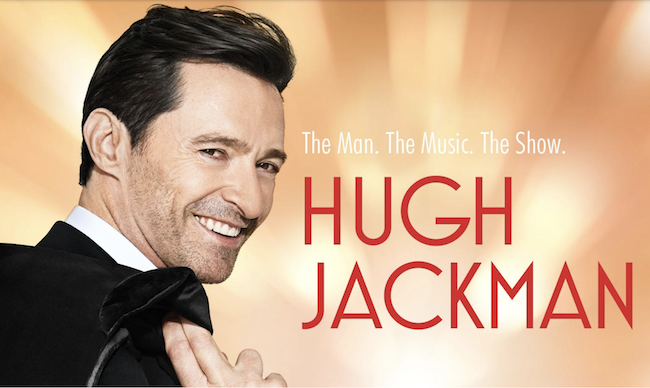 On November 29, Academy Award-nominated, Golden Globe- and Tony Award-winning performer Hugh Jackman announced his first world tour. The Man. The Music. The Show. will present Jackman performing hit songs from The Greatest Showman, Les Misérables and more from Broadway and film, accompanied by a live orchestra. The tour is produced by AEG Presents, TEG-Dainty and Robert Fox, and follows up on his tour across Australia in November and December 2015.
This world tour will reportedly kick off with 12 shows across Europe and the U.K., beginning Monday, May 13 in Hamburg, Germany at Barclaycard Arena. There will be stops in Amsterdam, Paris, Manchester, Dublin and London, with two shows at The O2 Arena.
The 22-city North American leg will begin Tuesday, June 18 at the Toyota Center in Houston, TX, with stops planned for Chicago, Toronto, Boston, Las Vegas and New York. Two shows will be presented at Madison Square Garden, as well as two performances at the Hollywood Bowl in Los Angeles.
Tickets go on sale on Friday, December 7. For those in Europe and the UK, sales open at 9 a.m. local time. In North America, sales begin at 10 a.m. local time at www.HughJackmanTheShow.com. A limited number of exclusive VIP packages will be available. These exclusive offers can include an amazing selection of reserved-seated tickets, custom merchandise and more.
A graduate of the Western Australian Academy of Performing Arts (WAPPA), Hugh Jackman has made an impression on audiences of all ages with his multi-hyphenate career persona, as successful on stage in front of live crowds as he is on film. From his award-winning turn on Broadway as the 1970s singer/songwriter Peter Allen, to his metal claw-wielding Wolverine in the blockbuster X-Men franchise, Jackman has proven to be one of the most versatile actors of our time.
Jackman garnered his first Academy Award nomination for Best Actor for his performance in Tom Hooper's Les Misérables, based on the popular stage show created from Victor Hugo's famous novel of the same name. Jackman's standout performance as protagonist Jean Valjean also earned him a Golden Globe Award for Best Actor in a Comedy/Musical, as well as Screen Actors Guild (SAG) Award nominations for both Best Ensemble and Best Male Actor in a Leading Role, and a BAFTA Award nomination. Most recently, he was nominated for his role as P.T. Barnum in The Greatest Showman. Sales for the soundtrack to the film have broken records the world over and reached multi-platinum status in many countries including the U.K. and America.