Italian International Dance Festival returns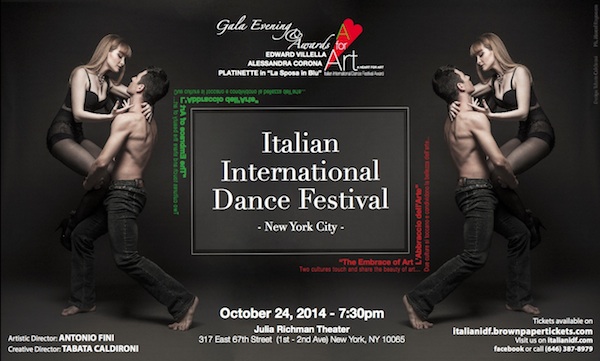 Following the successful New York premiere last year of the Italian International Dance Festival (IIDF), Artistic Director Antonio Fini and Creative Director Tabata Caldironi will present and host the second edition of this event, which brings together dancers, companies and choreographers from Italy and America in a spirit of exchange and collaboration – an "abbraccio dell'arte" (embrace of art) if you will.
The festival will be presented Friday, October 24 at 7:30 p.m. at the Julia Richman Theater, located at 317 East 67th Street, NYC. The evening will feature the following performing companies and artists: Michael Mao Dance; A Corona Works Founder Alessandra Corona, a former Ballet Hispanico dancer of Sardinian heritage; Calabria native Antonio Fini, a member of Michael Mao Dance; Israeli composer Noa Guy, a collaborator with Fini; Dianna Folio in a tribute to jazz master Luigi; SLK Ballet and Staten Island Ballet, performing a new work by Michael Mao created last summer in Italy during the AltoJonio Dance Festival; and Talent Unlimited students, who will open the performance with a spirited tarantella.
A guest festival performer is Italian TV star Platinette, who will appear in drag in an excerpt from the hilarious Italian music comedy La Sposa in Blu. He will also receive "A Heart for Art Emerging Musical Award."
Also, as part of the festival, renowned American dancer and former artistic director Edward Villella will receive IIDF's "A Heart for Art Lifetime Achievement Award." Then performer Alessandra Corona will receive "A Heart for Art Extraordinary Dancer Award."
For more information on the 2014 Italian International Dance Festival, visit www.italianidf.com. Tickets are $25 general admission and $15 for students and seniors.