Jacob's Pillow announces 2013 season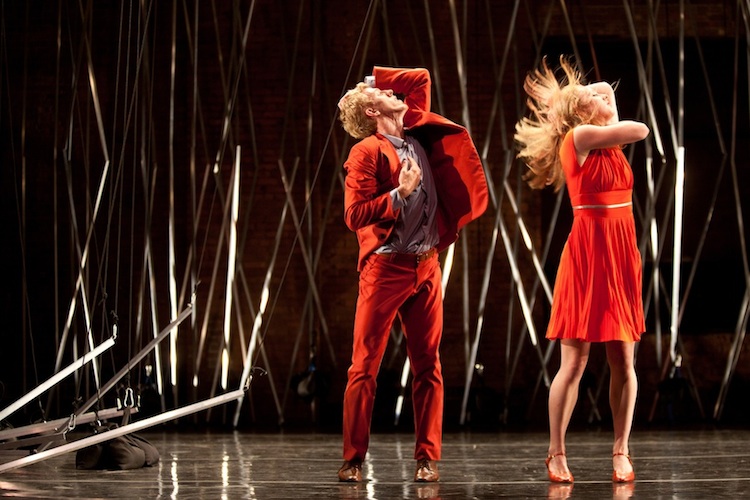 Following the 80th Anniversary Season's record-breaking attendance, Jacob's Pillow Dance Festival recently announced the 2013 festival schedule. Jacob's Pillow is a National Historic Landmark, home to America's longest-running dance festival, and a recipient of the National Medal of Arts. Jennifer Dunning of The New York Times hails the Pillow as "the dance center of the nation, possibly the world."
The 81st Festival season will feature more than 52 companies performing on three stages: the historic Ted Shawn Theatre, the intimate Doris Duke Theatre and the open-air Henry J. Leir Stage, home to the Pillow's free Inside/Out Performance Series which serves more than 17,000 community members annually.
More than 350 free and ticketed dance performances, talks, tours, exhibits, films, classes, and community events will be offered June 15-August 25, 2013.
The 2013 festival artists will travel to the Pillow from four continents and seven countries: Brazil, Canada, France, Germany, India, Israel and across the U.S. Festival highlights include the world premiere of New York City Ballet star Wendy Whelan's new project Restless Creature, as well as premieres by contemporary ballet choreographer Jessica Lang; tap artist Michelle Dorrance; Samuel Murez of French contemporary ballet ensemble 3e étage: Dancers of the Paris Opera Ballet; and a new work by European master choreographer Nacho Duato, performed by the Martha Graham Dance Company.
L-E-V, the new company from Israel co-founded by choreographic collaborators Sharon Eyal and Gai Behar, will make its U.S. debut with the evening-length work HOUSE. Master musicians will perform live with at least four engagements, including celebrated Kuchipudi specialist dancer Shantala Shivalingappa; Dorrance Dance's The Blues Project; Canada's O Vertigo, performing La Vie Qui Bat to Steve Reich's "Drumming;" and the flamenco artists of La Otra Orilla of Montréal.
Other special engagements include the newly revitalized Dance Theatre of Harlem; encore performances by festival 2012's sold-out hip-hop hit Compagnie Käfig; 3e étage: Dancers of the Paris Opera Ballet) in Le Pillow Thirteen, a program created specifically for Jacob's Pillow; Martha Graham Dance Company in the revival of Graham's Rite of Spring; and 2012 Jacob's Pillow Dance Award winner Kyle Abraham's newest work, Pavement.
"If audiences dive into the range and variety of festival 2013, it will be an exciting and incomparable dance experience," comments Ella Baff, Jacob's Pillow Executive and Artistic Director. "The best part about a festival is the opportunity to explore and see new artists and dance styles as well as enjoy beloved classics and favorites. I hope our visitors will discover new companies such as Sharon Eyal's intense and provocative L-E-V from Israel, and other new productions including the world premiere and co-commission of the superb ballerina Wendy Whelan's new adventure, Restless Creature, and a new tap production by choreographer Michelle Dorrance with live music by acclaimed composer and musician Toshi Reagon. We will also reach back in important dance history with the revival of Martha Graham's Rite of Spring and Dance Theatre of Harlem performing iconic works by George Balanchine and Alvin Ailey.
Baff continued: "Each festival we strive to bring the best of international dance, dedicated to presenting companies and new works that will only be seen at Jacob's Pillow in the beautiful Berkshires. With artists from Canada, Brazil, France, Israel, India, Germany, and all over the United States, you can enjoy the top talent from many corners of the world. I can't wait to share the season with everyone."
The School at Jacob's Pillow 2013 programs are equally international and varied in scope. Pre-professional dancers from around the world will audition to take part in programs in Ballet, Commercial Dance, Contemporary, and Jazz/Musical Theatre Dance.
Artist faculty and program directors include esteemed ballet master teacher and coach Anna-Marie Holmes; New York City Ballet principal dancer Wendy Whelan; former house choreographer for Ohad Naharin's Batsheva Dance Company, Sharon Eyal; former Ballet Frankfurt member, choreographer Helen Pickett; commercial dance choreographer and director Jeffrey Page, Dance Theatre of Harlem Artistic Director Virginia Johnson; revered master teacher Milton Myers; Artistic Director of Luna Negra Dance Theatre Gustavo Ramirez Sansano, Dutch choreographer Didy Veldman, Broadway choreographer and director Chet Walker, and many others.
Prior to the Festival, Jacob's Pillow and MASS MoCA will co-present Les Ballets Jazz de Montréal (BJM), March 2 and 3. Under the artistic direction of Louis Robitaille, BJM bridges a range of contemporary styles and aesthetics with strong classical technique. They will perform the works of three international choreographers: Canadian dancemaker Wen Wei Wang's Nightbox; Spanish choreographer Cayetano Soto's forceful duet, Zero In On; and Israeli-born choreographer and Festival 2010 artist Barak Marshall's theatrical work, Harry.
For more information on the upcoming festival, visit jacobspillow.org. Single tickets go on sale to the public on April 8, 2013. Tickets go on sale to 2013 Jacob's Pillow Members and Subscribers as early as January 28, 2013. For more detailed ticket information call the Pillow Box Office at 413.243.0745.
Further programming announcements will be made in April for more than 200 free events, including Inside/Out performances, PillowTalks and exclusive exhibits.
Photo: Brian Brooks Moving Company. Photo by Matthew Murphy, courtesy of Jacobs Pillow Dance.