Jacob's Pillow announces 2015 season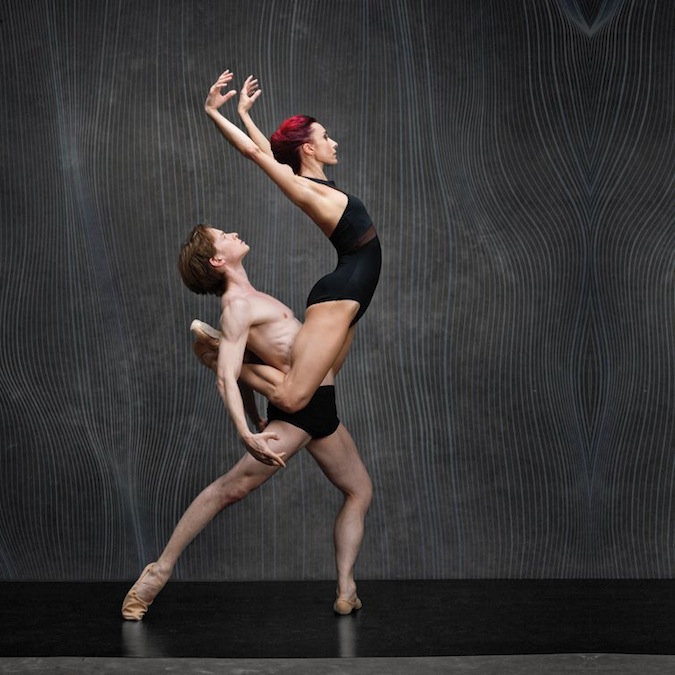 Following the critical acclaim and record-breaking attendance of Festival 2014, Jacob's Pillow Dance Festival announces a new season of exciting activity. Highlights of Festival 2015 include: Three Acts, Two Dancers, One Radio Host, a special dance and radio stage production starring public radio's Ira Glass; the return of Nederlands Dans Theater 2; the U.S. debut of Gauthier Dance//Dance Company Theaterhaus Stuttgart from Germany; the world premiere of American Ballet Theatre Principal Daniil Simkin's INTENSIO; Cuban contemporary ensemble Malpaso Dance Company performing with Grammy Award-winning pianist and composer Arturo O'Farrill and the Afro Latin Jazz Orchestra; and the launch of Martha Graham Dance Company's 90th Anniversary, including a world premiere by eminent choreographer Mats Ek.
"Festival 2015 delivers a remarkable range of dance from ballet to tap, music from classical to jazz, brand new works commissioned by the Pillow, and the most astonishing performers in the world," comments Jacob's Pillow Executive and Artistic Director Ella Baff.
"We start the season with Ira Glass's Three Acts, Two Dancers, One Radio Host and the re-opening of the Jacob's Pillow Archives as we celebrate the 20th anniversary of public access and a major expansion of its home, Blake's Barn. We end with a celebration of the 90th anniversary of the Martha Graham Dance Company, a world premiere by Mats Ek, and the up-and-coming company MADboots Dance. Quite a range indeed," Baff continued.
Jacob's Pillow is a National Historic Landmark, recipient of the National Medal of Arts, and home to America's longest-running international dance festival. This season, dance companies from across the U.S. and around the globe travel to Becket, Massachusetts to take part in the 83rd annual festival. Festival 2015 international companies include Ballet BC and La Otra Orilla from Canada, Nederlands Dans Theater 2 from the Netherlands, Malpaso Dance Company from Cuba, Gauthier Dance//Dance Company Theaterhaus Stuttgart from Germany, and Sébastien Ramirez and Honji Wang from France. American companies hail from Los Angeles (L.A. Dance Project and BODYTRAFFIC), San Francisco (Alonzo King LINES Ballet), Sarasota, FL (The Sarasota Ballet) and New York City (Martha Graham Dance Company, Liz Gerring Dance, Dorrance Dance, New York Theatre Ballet and others.)
Live music is prevalent throughout the season and will be featured in performances by Jessica Lang Dance, Dorrance Dance, Daniel Ulbricht and Stars of American Ballet, Daniil Simkin's INTENSIO, La Otra Orilla and Malpaso Dance Company. Jacob's Pillow is committed to presenting and commissioning new work; Festival 2015 features many world premiere engagements, including Daniil Simkin's INTENSIO and Martha Graham Dance Company in VED by Mats Ek, plus premiere works by La Otra Orilla and Ricardo Graziano of The Sarasota Ballet. Many Festival 2015 artists have developed work during Creative Development Residencies at Jacob's Pillow, including Jessica Lang, Michelle Dorrance, Annie-B Parson, and Jonathan Campbell and Austin Diaz of MADboots Dance.
The artist faculty members of The School at Jacob's Pillow are equally international and diversely experienced. The 2015 Program Directors include: esteemed ballet luminary Anna-Marie Holmes; Ailey School and Juilliard faculty member Milton Myers; Broadway veteran, choreographer and director Chet Walker; and New York Dance and Performance ("Bessie") Award-winning choreographer and artistic director Camille A. Brown, with scholar and artist E. Moncell Durden.
The Program Directors will be joined by dance artists, choreographers and artistic directors from across the globe. The Ballet Program roster includes Ballet BC Artistic Director Emily Molnar; BalletX co-founder and co-Artistic Director Matthew Neenan (who will create a new work on the dancers of the Ballet Program); and Hungarian National Ballet Director, ballet master and dancer Tamás Solymosi. Contemporary Program Director Milton Myers brings a celebrated range of guest choreographers including 2013 MacArthur Fellow and Jacob's Pillow Dance Award-winner Kyle Abraham, 2013 Guggenheim Fellow Brian Brooks and Emily Molnar. Myers will also lead a diversely talented faculty, including LeeSaar The Company Artistic Director Saar Harari; former Boston Ballet, San Francisco Ballet and Hamburg Ballet Soloist Peter Brandenhoff; former choreographer for Les Ballets Trockadero de Monte Carlo Pamela Pribisco; 2007 Princess Grace Award recipient Meredith Webster; and Juilliard School faculty member Alphonse Poulin. Additional faculty will be announced in the spring.
A major expansion of Blake's Barn, home of the Jacob's Pillow Archives, will be completed by June 2015, adding more than 700 square feet to the Reading Room and effectively tripling space for both public access and climate-controlled storage. The expansion coincides with the 20th anniversary of public access to the Archives, which houses one of the most significant collections on the dance field, including books, letters, costumes, photographs and films from as early as 1894 through the Pillow's most recent festival. On average, 22,000 visitors attend talks and exhibitions in Blake's Barn each summer, and additional visits by scholars, artists and the general public take place throughout the year. Jacob's Pillow will celebrate the re-opening of Blake's Barn with a ribbon cutting and other festivities on June 23.
Prior to Festival 2015, Jacob's Pillow and MASS MoCA will present Keigwin + Company at MASS MoCA's Hunter Center on April 11 and 12. Witty, fun and provocative, choreographer Larry Keigwin's dances merge high art with pure entertainment. This program includes: Waterfront, inspired by the drama of Leonard Bernstein's score for On the Waterfront; the vigorous, precise dance Triptych; and Panic, Keigwin's first new solo in 10 years. Tickets are now available for this show at massmoca.org.
For more information on Festival 2015 and to see dates, visit www.jacobspillow.org.
Photo: Céline Cassone and Daniil Simkin. Photo by Ken Browar and Deborah Ory, courtesy of Jacob's Pillow Dance Festival.