Jacob's Pillow announces 2016 Season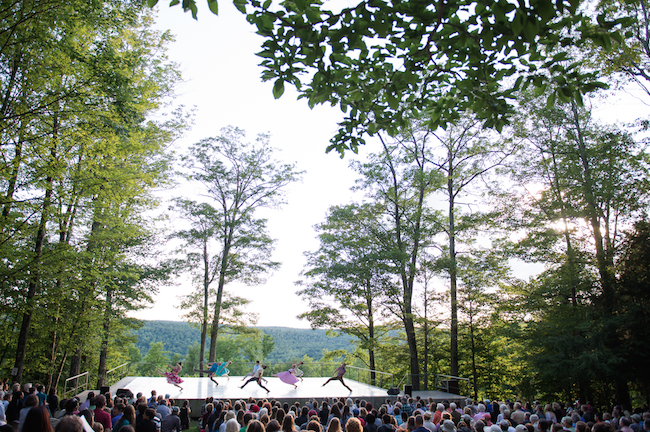 Following the critical acclaim and record-breaking ticket sales and attendance of Festival 2015, Jacob's Pillow Dance Festival announces a new season of exciting programming featuring international artists, world premieres, and an impressive number of live music engagements. This season signals an exciting new era in Pillow history, as the Board of Directors plans to name a new Jacob's Pillow Director in early 2016. Former Executive and Artistic Director Ella Baff stepped down from her role in September of 2015, following a successful 17-year tenure.
Highlights of Festival 2016 include a world premiere engagement created by tap dance powerhouses Dormeshia Sumbry-Edwards, Derick K. Grant, and Jason Samuels Smith; former New York City Ballet principal dancer Wendy Whelan and choreographer Brian Brooks in an evening of new duets and solos, accompanied by eminent string quartet Brooklyn Rider; rare U.S. appearances by France-based Compagnie Hervé KOUBI and Korea-based contemporary ensemble Bereishit Dance Company; the explosive Che Malambo of Argentina; and the return of the beloved Seattle-based company Pacific Northwest Ballet.
"It may be winter but the Pillow is buzzing with excitement," states Managing Director Andrea Sholler. "We are looking forward to the selection of our new director, a thrilling 2016 season, and enhancements to our Festival offerings including changes to the Jacob's Pillow Store and new partnerships with Berkshire County restaurateurs. Festival 2016 features artists from all over the globe, live music for 10 of the 20 Ted Shawn and Doris Duke Theatre artists, and world premieres by renowned choreographers in a multitude of genres – we can't wait to welcome audiences back to the Pillow."
Jacob's Pillow is a National Historic Landmark, recipient of the National Medal of Arts, and home to America's longest-running international dance festival. This season, dance companies from across the U.S. and around the globe travel to Becket, Massachusetts to take part in the 84th annual Festival. Festival 2016 international companies include Gauthier Dance//Dance Company Theaterhaus Stuttgart from Germany, France-based Compagnie Hervé KOUBI with dancers from Algeria and Burkina Faso, the previously mentioned Che Malambo from Argentina, and Bereishit Dance Company from Korea. American companies hail from Aspen, CO and Santa Fe, NM (Aspen Santa Fe Ballet and Juan Siddi Flamenco Sante Fe); Chicago, IL (Hubbard Street Dance Chicago and Hubbard Street 2); Seattle, WA (Pacific Northwest Ballet); Philadelphia, PA (BalletX); and New York City (ZviDance, ARIAS Company, Dorrance Dance, Pam Tanowitz Dance, FLEXN and others.)
Festival 2016 features the most live music in recent years, prevalent throughout the season and featured in no less than 10 engagements.
Blake's Barn will feature an exclusive exhibition focusing on large format images by pre-eminent photographer Lois Greenfield. The exhibit shares its title, Moving Still, with a just-released volume from Chronicle Books, Greenfield's first publication in nearly 20 years.
The artist faculty members of The School at Jacob's Pillow are as equally international and diversely experienced as the Festival artists. The 2016 Program Directors include ballet luminary Anna-Marie Holmes; Ailey School and Juilliard faculty member Milton Myers, who celebrates his 30th year of mentoring and coaching at The School at Jacob's Pillow; Broadway veteran, choreographer and director Chet Walker; and the esteemed founder of Urban Bush Women Jawole Willa Jo Zollar.
These Program Directors will be joined by dance artists, choreographers and artistic directors from across the globe. The Ballet Program roster includes American Ballet Theatre Principal Dancer Xiomara Reyes, NBA Ballet Artistic Director Koichi Kubo, and former Boston Ballet Principal Dancer Yury Yanowsky, who will create a new work on program dancers for the season opening Gala. Zollar directs the new 2016 program: Improv Traditions & Innovations: From Ring Shout to Blues to Jazz.
Furthermore, Program faculty will include: Harvard University PhD candidate in African and African-American Studies, Lizzy Cooper Davis; two-time Fullbright Fellow Award recipient, Nia Love; former company member and rehearsal director for Urban Bush Women, Chanon Judson; Artistic Director of Junebug Productions, Stephanie McKee; and choreographer, performer and Urban Bush Women company member, Samatha Speis. Contemporary Program Director Milton Myers brings a renowned range of guest choreographers, including Ballet BC Resident Choreographer Cayetano Soto, Colombo-Belgian choreographer Annabelle Lopez Ochoa, and Belgian designer and choreographer Stijn Celis. Myers will also lead a diversely talented faculty including Atlanta Ballet Resident Choreographer Helen Pickett; former choreographer for Les Ballets Trockadero de Monte Carlo, Pamela Pribisco; former Juilliard School faculty member Alphonse Poulin; and the Artistic Director of the Dance Division at The Juilliard School, Lawrence Rhodes, among others. Additional faculty will be announced in the spring.
Prior to the Festival, Jacob's Pillow and MASS MoCA will co-present Festival 2016 artist ZviDance at MASS MoCA's Hunter Center on Saturday, April 23 at 8 p.m. The program will feature a work-in-progress showing with segments of On the Road, a multimedia work that contemplates the social upheaval of the 1960s and 1970s.
Festival 2016 tickets go on sale to the public April 1, online at 12:01 a.m. and via phone at 10 a.m. Jacob's Pillow Members can order as early as January 11. For further information on the 2016 season, visit www.jacobspillow.org.
Photo: Dark Circles Contemporary Dance on an outdoor stage at Jacob's Pillow. Photo by Cherylynn Tsushima.
---