John Heginbotham receives coveted award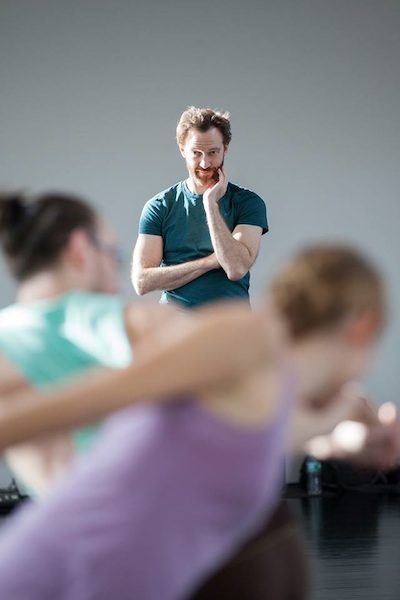 This year's Jacob's Pillow Dance Award, a coveted honor carrying a $25,000 cash prize, will be presented to choreographer John Heginbotham in recognition of his talent and outstanding contributions to the dance field.
Heginbotham, an alumnus of The School at Jacob's Pillow, has garnered critical and popular acclaim for his contemporary works, eclectic and rich with "movement that exhibits sharpness, energy, formality and, yes, oddity" said Alastair Macaulay of The New York Times.
His company, Dance Heginbotham, will perform the evening-length world premiere of Chalk and Soot in the Pillow's Doris Duke Theatre on July 30-August 3. In Chalk and Soot, Heginbotham joins forces with composer Colin Jacobsen to create a work featuring imaginative, theatrical choreography, live music performed by superstar string quartet Brooklyn Rider, the vocal stylings of Shara Worden (lead singer of My Brightest Diamond), and singer/songwriter Gabriel Kahane on harmonium.
One of the largest cash awards in the dance industry, the Jacob's Pillow Dance Award is granted to the recipient to be used in any way he or she chooses. The award will be presented to Heginbotham at the Jacob's Pillow Season Opening Gala on Saturday, June 14. Past recipients include tap choreographer and Festival 2014 artist Michelle Dorrance, as well as Crystal Pite, Kyle Abraham, Merce Cunningham, Big Dance Theater, Alonzo King and Bill T. Jones.
Ella Baff, Executive and Artistic Director of Jacob's Pillow, comments, "It is a pleasure to recognize John with the Jacob's Pillow Dance Award. He is an adventurous, intelligent artist, energetically experimenting with dance, music, opera, theater and visual design. His originality and wit add new and different ideas to the dance field."
Heginbotham says, "The Pillow has supported me during every step of my growth as an artist, from student to performer to choreographer. I am deeply, humbly, truly grateful. Thank you to Ella Baff and to everyone who makes Jacob's Pillow the magical and important place that it is. I am so honored to receive the Jacob's Pillow Dance Award."
The Jacob's Pillow Dance Award was created in 2007 with an ongoing, annual anonymous gift of $50,000, of which $25,000 is given to an artist of exceptional vision. In commemoration, the honoree receives a custom-designed glass award sculpture by Berkshire-based artist Tom Patti, whose work is in the collections of the Metropolitan Museum of Art and the Museum of Modern Art in New York, among other prominent institutions worldwide. The inaugural award was given in 2007 to Annie-B Parson and Paul Lazar, co-directors of Big Dance Theater.
The donor's annual gift of $50,000 also provides for $25,000 of annual support for Jacob's Pillow commissions, presentations, and the Creative Development Residency Program, which has funded residencies for numerous dance artists including Kyle Abraham, Camille A. Brown, Suzanne Farrell, Big Dance Theater, zoe | juniper, Stephen Petronio, Kimberly Bartosik, Rashaun Mitchell, and many others, as well as John Heginbotham. During Creative Development Residencies, artists are invited to spend one to three weeks at the Pillow creating or rehearsing new work, with free housing for the company, unlimited use of studio space, and access to the Pillow's rare and extensive Archives and other Pillow resources. In the beautiful, retreat-like atmosphere of the Pillow, the Creative Development Residencies are rare opportunities for artists to focus on the creative process without distraction. Chalk and Soot was developed in part through a Creative Development Residency; the work also received commissioning support from Jacob's Pillow.
Notable artists who have created or premiered dances at the Pillow include choreographers Antony Tudor, Agnes de Mille, Alvin Ailey, Donald McKayle, Kevin McKenzie, Twyla Tharp, Ralph Lemon, Susan Marshall, Trisha Brown, Ronald K. Brown, Wally Cardona, Andrea Miller and Trey McIntyre; performed by such artists as Mikhail Baryshnikov, Carmen de Lavallade, Mark Morris, Dame Margot Fonteyn, Edward Villella, Rasta Thomas and hundreds of others.
Originally from Anchorage, Alaska, Heginbotham studied choreography at Jacob's Pillow with Bessie Schönberg in 1991 and graduated from The Juilliard School in 1993. He was a member of the Mark Morris Dance Group from 1998-2012, performing with the company in 10 different Pillow seasons during that time. In 2011, he founded Dance Heginbotham, a performance group devoted to the presentation of his dance and theatrical work. The work of the company features highly structured, technically rigorous, and theatrical choreography, frequently set to the music of contemporary composers.
In addition to his work with Dance Heginbotham, John's choreography has been seen at Dance Theater Workshop, The Museum of Modern Art, Joe's Pub at The Public Theater, and the New York and Toronto Fringe Festivals, among other venues. In December 2013, he choreographed Isaac Mizrahi's Peter and the Wolf at the Guggenheim Museum, and will collaborate with Mizrahi again in June 2014 on The Magic Flute at the Opera Theatre of Saint Louis.
A frequent collaborator with live music, Heginbotham has worked with numerous composers and ensembles including Alarm Will Sound, the Raymond Scott Orchestrette, and the American Classical Orchestra, among others. He is a two-time recipient of the Jerome Robbins Foundation New Essential Works (NEW) Fellowship Grant and is a founding teacher of Dance for PD®, an ongoing collaboration between the Mark Morris Dance Group and the Brooklyn Parkinson Group. For more information on Heginbotham or his company, visit www.danceheginbotham.org.
To learn more about Jacob's Pillow Dance Festival, head to www.jacobspillow.org or check out the article on major summer dance festivals in Dance Informa's May edition.
Photo: John Heginbotham, choreographer and artistic director of Dance Heginbotham, in rehearsal. Photo by Janelle Jones, courtesy of Jacob's Pillow Dance.