Jon Lehrer Dance Company Fall NYC Performance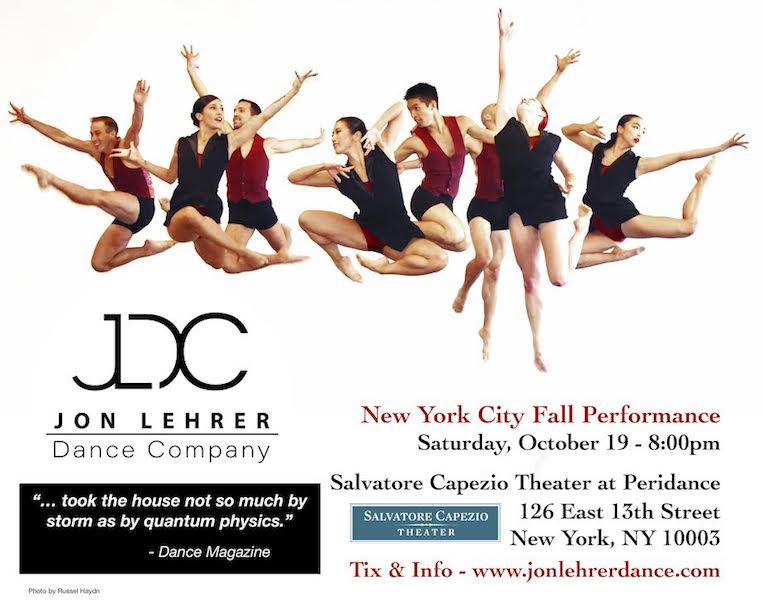 Jon Lehrer Dance Company (JLDC) will have it's inaugural NYC performance at the Salvatore Capezio Theater at Peridance on Saturday, October 19, 2019. After 11 years based in Buffalo, NY, the internationally touring, critically acclaimed professional dance company relocated to NYC in 2019 and is extremely excited to present their first NYC performance!
The October 19 program will feature Two World Premieres: Solstice – a joyous, full company work inspired by the first day of summer. Solstice was commissioned by and created at Artpark in Lewiston, NY. Touch – a tender, female duet about the sense of touch and all of it's sensations. Features an original music composition by Zeno Pittarelli. Plus JLDC audience favorites – Rhapsody (2017), Troika (2016), Bridge and Tunnel (2002), Loose Canon (2004), A Ritual Dynamic (2007).
Jon Lehrer started his highly anticipated company in 2007 and has received critical acclaim nationally and internationally. Under his artistic direction, the company showcases Jon's unique choreography.
For tickets and more information about JLDC – www.jonlehrerdance.com