Juilliard Dance opens new season in December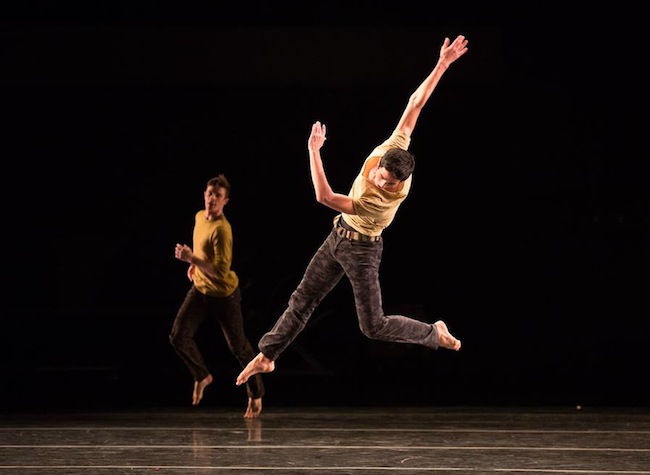 Juilliard Dance, under the direction of Lawrence Rhodes, opens its 2014-15 season in December with New Dances: Edition 2014, a program featuring four world premiere dances by innovative choreographers like Juilliard alumnus Austin McCormick (teaching on 1st-Year Dancers), alumna Loni Landon (creating with 2nd-Year Dancers), Kate Weare (working with 3rd-Year Dancers) and Larry Keigwin (instructing 4th-Year Dancers).
Austin McCormick, founder and artistic director of Company XIV, has had his works presented at The Kennedy Center, La MaMa, Symphony Space, The Flea, Alvin Ailey Theater, Mark Morris Dance Center and internationally in London, Scotland, Montreal and Mexico. He was the winner of the 2011 Robert L.B. Tobin Director-Designer Grant from Opera America for new directors in opera for the premiere of John Adams' A Flowering Tree. In addition to choreographing, McCormick is also a filmmaker and in fact, was the first winner of the Susan Braun Grant Award from Dance Films Association.
Also a Julliard graduate, Loni Landon is the recipient of the 2013 Princess Grace Choreography Fellowship and the 2012 First Prize at Ballet Austin's New American Talent Competition. In 2010, she co-founded the Playground in New York City, an open forum where professional dancers directly engage with emerging and established choreographers. As a sought-after dancemaker, her work has been commissioned by Northwest Dance Project, CityDance Ensemble and Ballet X. She has danced with Aszure Barton, Ballet Theater Munich and at the Metropolitan Opera.
Kate Weare, artistic director of Kate Weare Company, received the Guggenheim Fellowship Award earlier this year, the Mellon Foundation Award through The Joyce Theater's Fellowship Program in 2011, and the Princess Grace Fellowship for Choreography in 2009. Her most recent work for her own company, Dark Lark, was presented by Brooklyn Academy of Music's Next Wave Festival in 2013, marking her company's BAM debut.
Larry Keigwin will be coming to set work on Juilliard as well. He will return after having already choreographed and premiered, in December 2008, Runaway, a large-scale piece that riffs on the high fashion runway scene, and in December 2009, Megalopolis. He is the founder of New York's hip Keigwin+Company.
New Dances: Edition 2014 performances take place on: Wednesday, December 10; Thursday, December 11; Friday, December 12; and Saturday, December 13 at 8 p.m.; and Sunday, December 14 at 3 p.m. in Juilliard's Peter Jay Sharp Theater. Tickets will be available in November online at http://www.juilliard.edu/newdances or at the Janet and Leonard Kramer Box Office at Juilliard.
In the spring 2015 semester, Juilliard Dances Repertory presents repertory works by acclaimed choreographers Martha Graham and Merce Cunningham. Juilliard dancers perform Martha Graham's 1946 Dark Meadow and Merce Cunningham's 1999 BIPED. The performance at Juilliard will be accompanied by live music. Graham's work will be staged by Juilliard faculty member Terese Capucilli, a former principal dancer with the Martha Graham Dance Company for 26 years.
Merce Cunningham's BIPED was premiered by the Gavin Bryars Ensemble with the Merce Cunningham Dance Company on April 23, 1999 at Zellerbach Hall in Berkeley, California. A shimmering dance to a mesmeric score by Gavin Bryars, BIPED is a technically intricate work involving projected artwork by Paul Kaiser and Shelley Eshkar derived from a unique motion capture process devised in collaboration with the choreographer.
Juilliard Dances Repertory 2015 performances take place on: Wednesday, March 25 at 8 p.m.; Thursday, March 26 at 8 p.m.; Friday, March 27 at 8 p.m.; and Saturday, March 28 at 2 and 8 p.m. in Juilliard's Peter Jay Sharp Theater. Visit http://www.juilliard.edu/dancesrep for more information.
Additional events on the Juilliard Dance season calendar include: Choreographers and Composers 2014, featuring Juilliard dancers performing new works set to original music by Juilliard composers on Friday, November 21 at 5 and 8 p.m. and Saturday, November 22 at 2 and 8 p.m. in the Willson Theater; the Senior Dance Production, which is produced by the senior class, on Friday, April 24 at 8 p.m., Saturday, April 25 at 2 and 8 p.m., and Sunday, April 26 at 2 and 8 p.m. in the Willson Theater; Choreographic Honors, a sampling of works by Juilliard dancers curated from workshops and performances, on Friday, May 15 at 8 p.m. and Saturday, May 16 at 8 p.m. in Juilliard's Peter Jay Sharp Theater; and the popular Senior Dance Showcase, featuring the "Class of 2015," on Monday, May 18 at 8 p.m. in Juilliard's Peter Jay Sharp Theater.
The Juilliard Dance Division, entering its 63rd season in 2014-15, is a groundbreaking conservatory dance program based in New York whose faculty and alumni have changed the face of dance around the world. Among the early dance faculty members at Juilliard were Alfred Corvino, Martha Graham, Doris Humphrey, José Limón, Anna Sokolow, Antony Tudor and Hector Zaraspe. This season, 99 students are enrolled in the program.
Alumni of Juilliard's Dance Division include Robert Battle, Pina Bausch, Martha Clarke, Mercedes Ellington, Robert Garland, Charlotte Griffin, Kazuko Hirabayashi, Adam Hougland, Saeko Ichinohe, Loni Landon, Jessica Lang, Lar Lubovitch, Bruce Marks, Susan Marshall, Austin McCormick, Andrea Miller, Ohad Naharin and Paul Taylor. For further information, visit www.juilliard.edu/degrees-programs/dance.
Photo: Juilliard students in Brian Brooks' Torrent in 2013. Photo by Rosalie O'Connor. Juilliard Dance will perform this work at New York City Center's 2014 Fall for Dance Festival on October 16 and 17.