K-Arts Dance Company performs in D.C.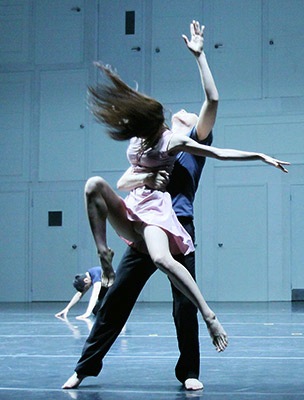 The Korea National University of Arts will present K-Arts Dance Company on Friday, June 20 in a special performance at the Terrace Theater at The John F. Kennedy Center for the Performing Arts in Washington D.C.
K-Arts Dance Company, comprised of students from the university's School of Dance, will perform a mixed repertory program, including Mi Sook Jeon's modern dance piece Nothing to Say, YongGeol Kim's ballet Inside of Truth and three traditional Korean dance pieces directed by Sung Ok Yang.
Nothing to Say will examine the empty space found in the lethargic, nihilistic lifestyle favored by many young people today while Inside of Truth will study the identity of truth.
The three traditional dance pieces by Sung Ok Yang include: Taepyeongmu ("Great Peace Dance"), wishing for a good harvest and peace in the land; Seungmu ("Monk's Dance"), displaying both strength and amusement accompanied by gorgeous drum sounds; and Geommu ("Sword Dance"), which creatively praises the heroic acts of Hwang-Chang, the hero of the Silla period.
K-Arts' performance is free to the public and will only require general admission tickets. Tickets will be distributed beginning at 5:30 p.m. on the day of the performance in front of the Terrace Theater in the States Gallery lobby.
The Korea National University of Arts was established in 1993 and is the only national university in Asia that trains young artists of all genres – music, drama, film, television, dance, visual arts and Korean traditional arts. K-Arts Dance opened in 1997 and since 2000, has participated in cultural exchange programs in France with the Lyon and Paris conservatories, and in the U.S. with SUNY Purchase College and the California Institute of the Arts. The company has performed in the U.S., Paris, Tokyo, Beijing and Stockholm.
For more information on K-Arts' performance, visit www.kennedy-center.org or call 800-444-1324.
Photo courtesy of The Kennedy Center.