KDT premieres 'Re-Quickening' in Toronto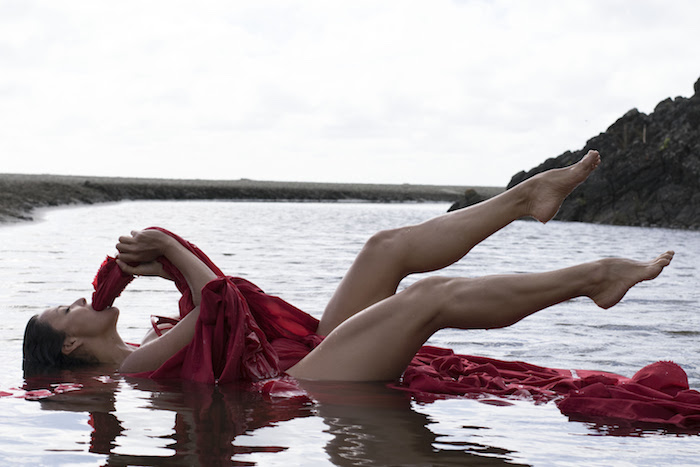 Kaha:wi Dance Theatre (KDT), one of Canada's leading contemporary dance companies, led by multi award-winning Artistic Director Santee Smith, presents a bold, timely, sonically and visually arresting interdisciplinary performance entitled Re-Quickening for its 2016 dance season on April 28-May 1.
Premiering as part of Harbourfront Centre's 2015-16 "Next Steps" dance series, Re-Quickening takes the prevailing discourse surrounding international Indigenous women's issues and incites a tough topical dialogue through performance, music and art, fuelled by re-constructing feminine power. Does reconciliation mean the same thing to everyone, including those living on Turtle Island? Re-Quickening goes there, while facilitating an artistic re-awakening of her-story.
"By piecing together fragments and shards of Indigenous knowing, this production acts as a reaffirmation of life and healing from issues of violence against women and the Earth," explains Smith. She also makes it clear that the driving force behind Re-Quickening is Indigenous voices. "It's about our experience and it's our truth," she says.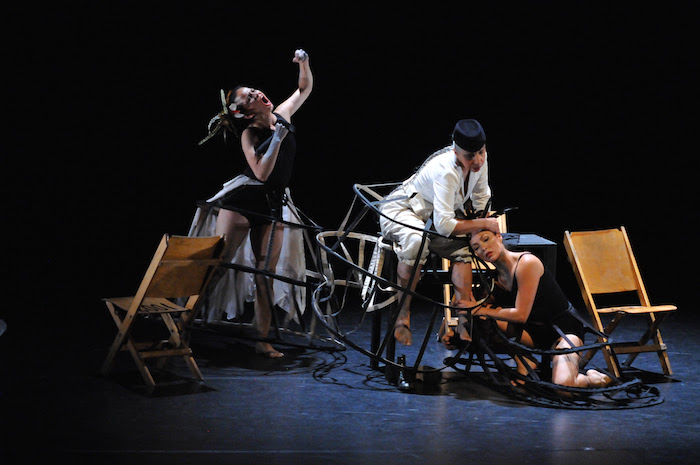 Devised from Indigenous methodology, Re-Quickening is led by a powerhouse team of international Indigenous women collaborators. In addition to Smith, Re-Quickening includes Monique Mojica, Marina Acevedo, Frances Rings, Louise Potiki-Bryant and Cris Derkson. It's guided by the words of artist-activist leaders Leanne Simpson (Michi Saagiig Nishnaabeg ancestry from Alderville First Nation), Christi Belcourt (Métis), Alva Jamieson (Onkwehon:we), Leigh Smith (Kenien'keha:ka/Mohawk Nation) and elder Maria Campbell (Métis).
Inspired by narratives encoded in Indigenous symbol and iconography, and traversing the inner scared landscape of Backwards woman, Changing woman, Skywoman, Claywoman and Earth Mother, Re-Quickening deals with stripping away the layers of colonial imposition on women's body-mind-spirit and the re-affirmation of life, of voice, of body sovereignty. Re-Quickening aims to open up pathways for re-storing internal fractures and to re-ignite feminine position and presence.
Known for award-nominated scores, KDT's Re-Quickening will not disappoint with an original score by collaborators Cris Derksen (2016 JUNO Awards nominee), Humberto Alvarez (MX), David R. Maracle (Kenien'kehá:ka/Mohawk Nation), Jesse Zubot (featuring vocals by Polaris Prize award winner Tanya Tagaq (Inuk)), Eugene Draw and Santee Smith. Re-Quickening design includes lighting by Arun Srinivasan, video by Louise Potiki Bryant, a set by Andy Moro (Mushkegowuk Cree descent), costumes by Adriana Fulop, and props by Adrian Harjo and Steve Smith (Kenien'kehá:ka/Mohawk Nation.)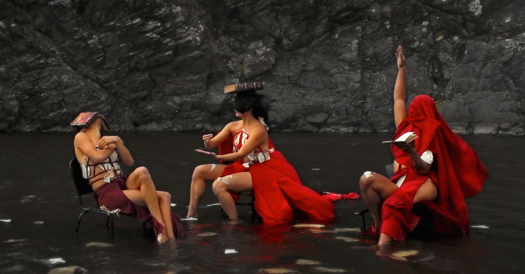 Re-Quickening is a spiritual resurgence, tipping colonialism on its head. The performance touches on themes of dislocation from land, body and voice; the history of violence against Indigenous women since contact; residential schools; and the assimilative processes of the Indian Act towards reclaiming women's blood ties, rites, umbilical connection to land and healing.
Re-Quickening runs April 28, 29, 30, and May 1 at Harbourfront Centre's Fleck Dance Theatre in Toronto. All performances begin at 8 p.m. with the exception of the Sunday, May 1 matinee at 3 pm. There will be a post-performance circle for audience members to exchange and engage on themes in response to the content of the performance. KDT will host Q&A's after every performance with special invited speakers and performers.
Tickets are $38 and can be purchased by calling Harbourfront Centre's Box Office at 416-973-4000 or by going to www.harbourfrontcentre.com. See a video teaser at vimeo.com.
Photo (top): Photo by Tony Nyberg. Photo (left): Photo By Brenda Hernandez. Photo (right): Video still by Louise Potiki Bryant.