Kids Dance to premiere 'A Yankee Doodle'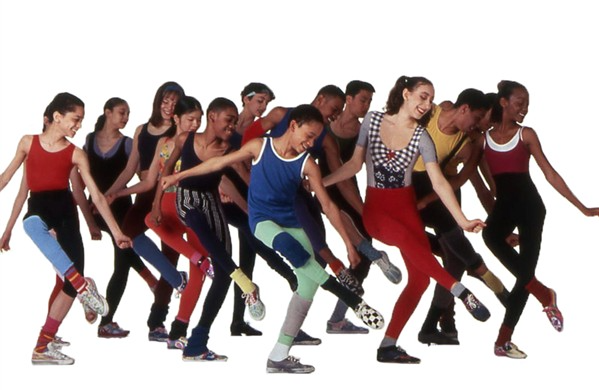 Those talented youngsters of Kids Dance, an ensemble of 40 dancers aged 9 to 14 from Ballet Tech (the New York City Public School for Dance), will appear in three Eliot Feld works, including the premiere of A Yankee Doodle, at The Joyce Theater on June 11-14.
In addition to A Yankee Doodle—a brand-new bugle and drum fanfare with a feather in its cap—the program will present these effervescent dancing youngsters in a repeat of last year's bubbly and rambunctious premiere KYDZNY, with music by the Raya Brass Band. Dotty Polkas, a daffy charmer set to music by Johann Strauss II and Josef Strauss, will also be on the bill.
In a June 2013 feature article in The New York Times, dance writer Gia Kourlas recounted Feld's initial inspiration for Ballet Tech: "(Feld) was riding the subway in 1977 when he first had the idea to look for dancers in public schools… The endeavor is about spotting talent and nurturing it." Committed to providing classical dance training to all children with talent and desire, Feld and Cora Cahan, as principals of Ballet Tech Foundation Inc., founded the tuition-free Ballet Tech School in 1978. Since that time: "Eliot Feld's vital Ballet Tech School has handpicked New York public-school students with what he calls 'innate joy' for dancing, and offered them top-flight training free of charge," noted Rebecca Milzoff in the June 2013 edition of New York Magazine.
Ballet Tech dedicates these performances of Kids Dance to LuEsther T. Mertz, who once said this about herself: "I have no talent but I know a good idea when I hear one." On her influence, Ballet Tech stated, "These dancing children, and children for generations to come, are her heirs, her imagined rainbow sons and daughters."
Kids Dance provides NYC school children a rare and treasured opportunity, and many students hope to get in. Today Ballet Tech auditions 30,000 children each year in more than 200 elementary public schools throughout NYC and provides free dance training and rigorous academic education at its headquarters at 890 Broadway in Manhattan. Graduates have pursued professional careers with companies such as Alvin Ailey American Dance Theater, Dance Theater of Harlem and New York City Ballet.
For this and many other reasons, the school is a recipient of numerous awards, including a 1986 Schools and Culture Award. For more information on Ballet Tech and Kids Dance, or to purchase tickets to the upcoming Joyce performances, visit ballettechschool.org.
Photo: Kids Dance in The Jig Is Up by Eliot Feld. Photo by Lois Greenfield.