'Kings of the Dance' 2014 UK premiere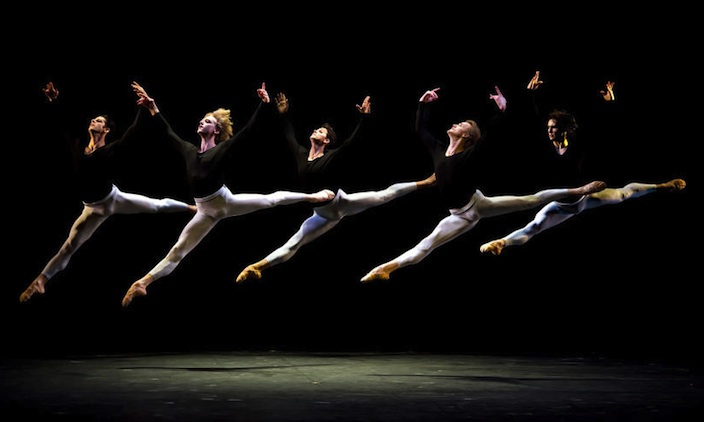 The critically-acclaimed Kings of the Dance makes its UK debut at the London Coliseum on March 19 – 22, 2014, showcasing the phenomenal artistry, style and power of its celebrated male dancers.
The current Kings of the Dance line-up showcases the incomparable Roberto Bolle from Teatro alla Scala, American Ballet Theatre's reigning stars Marcelo Gomes and Ivan Vasiliev, Russia's brilliant Denis Matvienko of the Mariinsky Ballet and the compelling Leonid Sarafanov of the Mikhailovsky Ballet. These virtuoso performers will dance seven diverse pieces from Roland Petit, Patrick De Bana, Nacho Duato, Marco Goecke, Marcelo Gomes and Massimiliano Volpini.
Roberto Bolle and Ivan Vasiliev will perform Roland Petit's tragic Le Jeune Homme et la Mort, also featuring special guest artist, the award-winning Svetlana Lunkina from the Bolshoi Ballet.
Leonid Sarafanov, Marcelo Gomes and Denis Matvienko will appear in Remanso, a work by Nacho Duato created to demonstrate the line and strength of male dancers. The evening will also include the London premiere of KO'd with choreography by Marcelo Gomes and music by Guillaume Côté.
Kings of the Dance made its debut in 2006, starring Angel Corella, Johan Kobborg, Ethan Stiefel and Nikolay Tsiskaridze, produced by Sergei Danilian as a co-production between Ardani Artists, one of the world's leading producers and presenters of dance, and Segerstrom Center for the Arts. It had its world premiere at Segerstrom Center for the Arts, followed by its East Coast premiere at New York City Center. Kings of the Dance is performed to a specially recorded score.
For more information on the Kings of the Dance 2014 London performances, visit www.eno.org.
Photo: Marcelo Gomes, David Hallberg, Guillaume Côté, Denis Matvienko and Ivan Vasiliev in Kings of the Dance in 2012. Photo by Gene Schiavone.