KYL/D Unveils U.S. Premier at Mandell Theater on April 17 & 18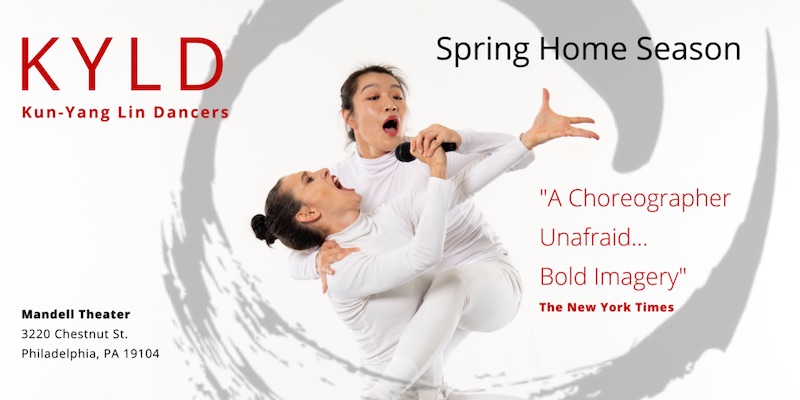 The critically-acclaimed Kun-Yang Lin/Dancers (KYL/D), is pleased to announce its 12th Spring Home Season performances at Drexel University's Mandell Theater on Friday, April 17 and Saturday, April 18, 2020. The program, MOVING REFLECTIONS ON THE ENVIRONMENT AND HUMANKIND, will feature the US premiere of FISH AND GIRL, a work that suggests the longing for what is lost in our environment as society marches forward. The program will also feature two acclaimed works: EMPTINESS OF SNOW, a global warming-inspired exploration of forces that are seen and unseen; and SANTUARIO a moving response to the tragic shootings at Pulse Nightclub in Orlando.
Known for his "distinctive blend of traditional and Western dance [that] has the dark, bold force of a woodcut print" (New York Times), Kun-Yang Lin's choreography is widely acclaimed by critics and audiences throughout the United States, Asia and Mexico. His artistry promises to "transport…us back to the beginning of humanity and the wellspring of our beings" (Backstage) and has been described as "deeply spiritual, remarkable." (Dance Magazine).
Drawing upon Eastern philosophies while expanding the perimeter of contemporary dance, Executive Artistic Director Kun-Yang Lin's zen-inspired practice of dance manifests in lush works of poetic sensibility that The New York Times says "create and inhabit worlds of their own." Lin draws upon varied influences from his native Taiwan, such as calligraphy, martial arts, tai chi and traditional Chinese dance movements, yet expresses these impulses in a thoroughly contemporary way, borne of his extensive performance experience worldwide.
KYL/D's 2020 Spring Season has been made possible, in part, by the generosity of Season Producers Jeremy Siegel and Ellen Schwartz, to whom Lin dedicates these performances.
The KYL/D ensemble consists of 10 dance artists: Evalina Carbonell, Weiwei Ma, Grace Stern, Annielille Gavino, Keila Pérez-Vega, Frankie Markocki, Wangbo Zhu, Ariel Isakowitz, Sophie Malin and Emmanuel Williams.
For further information visit: https://www.kyld.org/open-studio