Kyle Abraham to receive 2012 Jacob's Pillow Dance Award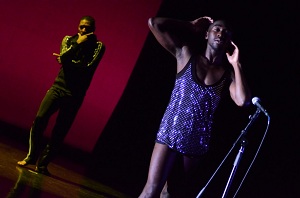 Jacob's Pillow's Executive and Artistic Director Ella Baff will present the sixth annual Jacob's Pillow Dance Award to Kyle Abraham, an acclaimed contemporary dancer, choreographer, and Artistic Director of Abraham.In.Motion at this year's Anniversary Gala on June 16.
The Jacob's Pillow Dance Award honors outstanding, visionary dance artists and carries a prize of $25,000, one of the largest cash awards in the dance industry, to be used by the choreographer to enhance their artistry in any way they choose.
"Kyle Abraham is a charismatic performer, ambitiously creative, and an insightful dance-maker who connects powerfully with audiences," comments Ella Baff. "With this award, we can help this exceptional young artist turn a corner in his career and artistic development. I am so pleased for Kyle to join the amazing group of Jacob's Pillow Dance Award honorees, including Merce Cunningham, Bill T. Jones, and Crystal Pite."
Kyle Abraham comments "Jacob's Pillow is the ultimate resource for imagination, inspiration and artistry. Receiving this award is something that goes far beyond what I could have ever imagined for myself at this stage of my career."
The Jacob's Pillow Dance Award was created in 2007 with an ongoing, annual anonymous gift of $50,000, of which $25,000 is given to an artist of exceptional vision. In addition to the cash award, the honoree receives a custom-designed glass sculpture by Berkshire-based artist Tom Patti, whose work is in the collections of the Metropolitan Museum of Art and the Museum of Modern Art in New York, among other prominent institutions worldwide. In 2007, the inaugural Award was given to Annie-B Parson and Paul Lazar, co-directors of Big Dance Theater. In 2008, the Pillow honored Alonzo King, Artistic Director of Alonzo King's LINES Ballet. In 2009 the Award was given to Merce Cunningham, whose company gave its final performances during his lifetime at Jacob's Pillow later that season; in 2010 Bill T. Jones accepted the Award weeks after receiving his second Tony Award for the Broadway hit FELA! Last season Crystal Pite, international choreographer and Artistic Director of Kidd Pivot, was honored. Her company returns to the Festival in 2012 with the work Dark Matters June 27-July 1.
The additional $25,000 of the anonymous donor's annual gift supports Jacob's Pillow commissions, presentations, and the Creative Development Residency Program, which has supported residencies for numerous dance artists including Kyle Abraham, Camille A. Brown, Suzanne Farrell, Big Dance Theater, zoe | juniper, Stephen Petronio, Kimberly Bartosik, Rashaun Mitchell, and many others. During Creative Development Residencies, artists are invited to spend one to three weeks at the Pillow creating or rehearsing new work, with free housing for the company, unlimited use of studio space, and access to the Pillow's rare and extensive Archives and other Pillow resources. In the beautiful, retreat-like atmosphere of the Pillow, the Creative Development Residencies are rare opportunities for artists to focus on the creative process without distraction.
Notable artists who have created or premiered dances at the Pillow include choreographers Antony Tudor, Agnes de Mille, Alvin Ailey, Donald McKayle, Kevin McKenzie, Twyla Tharp, Ralph Lemon, Susan Marshall, Trisha Brown, Ronald K. Brown, Wally Cardona, Andrea Miller, and Trey McIntyre; performed by such artists as Mikhail Baryshnikov, Carmen de Lavallade, Mark Morris, Dame Margot Fonteyn, Edward Villella, Rasta Thomas, and hundreds of others.
Photo: Kyle Abraham and Chalvar Monteiro. Photo by Cherylynn Tsushima.