L.A. Contemporary Dance Company in 'Youth'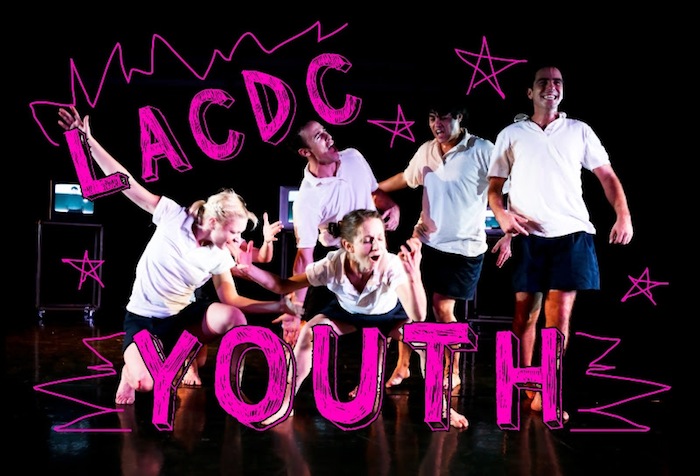 L.A. Contemporary Dance Company (LACDC) will present its Spring Repertory Concert on Thursday-Sunday, May 1-4. The concert will feature choreography by Holly Rothschild, Nina McNeely, and Co-Founder and Artistic Director Kate Hutter.
LACDC will perform Rothschild's The Better To See You With, a dark, humorous and graphic coming-of-age tale that premiered in 2011. It is told through the guise of Little Red Riding Hood and features film elements created by Eric Mason. Rothschild is a co-founder of String Theory, a hybrid performance group featuring musicians, dancers and large-scale sonic sculpture. She is also the founder and artistic director of Strange & Elegant Choreography and Performance Installations, a dance performance company that creates site-specific, image-based dance.
Next, LACDC will present Hutter's 2009 work I RAN, a look at an apathetic group of teens trying to survive the trials and tribulations of high school. It deals with the decisions they must make when faced with adversity – do they fight or flee? This work also features film elements by Eric Mason.
The highlight of the spring concert will be the world premiere of Demigods, choreographed by acclaimed L.A. dancer Nina McNeely. Inspired by the purity, vitality and mystery of children, the work assesses the theory that an infant knows all the secrets of the universe when born, but cannot communicate it to the world.
The Spring Repertory Concert will be presented at Club Fais Do Do, located at
 5257 W. Adams Blvd. in
 Los Angeles. Tickets are
 $20 online and 
$25 at the door. For more information or to book tickets, head to lacdcyouth.brownpapertickets.com.