'La Sylphide' alights on the Louisville Ballet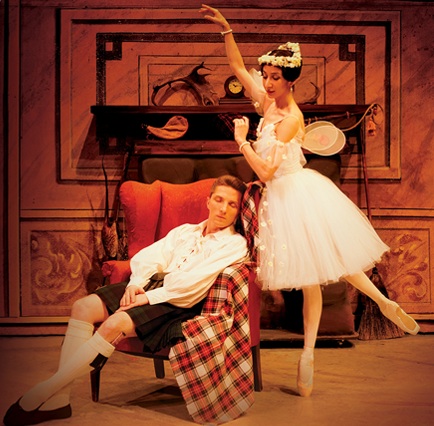 The Louisville Ballet presents the timeless and classical ballet La Sylphide for its February program. This two-act story ballet follows a Scottish farmer, James, on a journey that leads him away from his betrothed to pursue his insatiable desire of true but unattainable love with a winged spirit.
The Louisville Ballet last performed La Sylphide in 2003 when the beloved Elizabeth Hartwell retired from the company. Performances take place Friday, February 21 at 8 p.m. and Saturday, February 22 at 2 p.m. and 8 p.m. in Whitney Hall at The Kentucky Center.
La Sylphide's plot is inspired by a romantic fairytale written by Charles Nodier published in 1822. This tale, Trilby, ou le Lutin D'Argail, is the story of a Scottish fisherman and his wife whose marriage is destroyed by a beautiful male sprite who woos her. La Sylphide follows a similar theme but replaces the male sprite with a winged sylph. The first of the Romantic era ballets (Giselle is also of this era), La Sylphide's plot centers on the most basic of Romantic ideals: man's internal struggle with his desires and the ensuing conflict between his fantasy life and reality. James's search for his sylph takes him from his pastoral highland home through a misty and mysterious forest to follow his fantasy.
Italian ballet master Filippo Taglioni created the original version of La Sylphide in 1832, and showcased his daughter, Marie Taglioni, as the Sylphide. A prominent ballerina of the Romantic era, Marie was also a champion of a new and revolutionary tool in dance – the pointe shoe. She pioneered and developed the technique of dancing en pointe and changed the art of ballet as a result. F. Taglioni's La Sylphide began Romanticism in dance, conveying the movement's focus on escapism and its desire to return to nature. The great Danish chorographer Auguste Bournonville drew inspiration from Taglioni for his piece and premiered his version of La Sylphide in Copenhagen in 1836 set to a score by Hermann Løvenskjold. This version is the only one known to have survived. Louisville Ballet will present this version as staged by the company's artistic staff.
To see the Louisville Ballet in La Sylphide, reserve tickets by calling (502) 584-7777. Ticket prices start at $30. For more information on this production and the company's 2013-14 season, visit www.louisvilleballet.org.
Photo: Louisville Ballet's Kristopher Wojtera and Erica De La O in a scene from La Sylphide. Photo courtesy of Louisville Ballet.