Lake Tahoe Dance Festival in second season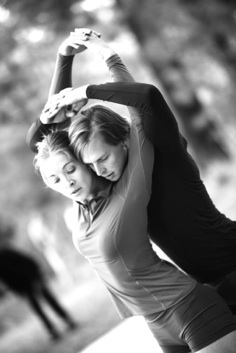 The 2nd Annual Lake Tahoe Dance Festival will be held on July 15-17 in the uniquely picturesque Gatekeeper's Museum in William B. Clayton Park in Tahoe City, California. Directed by Christin Hanna, Lake Tahoe native and founding artistic director of the Tahoe Youth Ballet, and Constantine Baecher, formerly with The Royal Danish Ballet, the festival will feature three days of events (including workshops and youth performances) and three nights of performances.
The festival will get underway with a Gala Opening Night Celebration on Tuesday, July 15, consisting of dinner, a special performance and a swing dance lesson for all. The following mainstage performances on Wednesday and Thursday, July 16 and 17, will include free, educational pre-performance talks.
The mainstage performances will feature works by modern dance pioneer Erick Hawkins and contemporary choreographers Bryan Arias, Deborah Lohse and Deborah Wingert, former member of New York City Ballet, who will create a new solo for Christin Hanna.
Guest dancers will include: Constantine Baecher, who now directs his own dance company in Copenhagen and guests as a dancer and choreographer around the world; Bryan Arias, a powerhouse dancer previously with Nederlands Dance Theatre and Kidd Pivot, a Canadian-based contemporary dance company; Kristina Berger, formerly with Erick Hawkins Dance, performing a historic, rarely-seen Hawkins work; and Deborah Lohse, freelance choreographer and former member of Doug Elkins Company.
The Lake Tahoe Dance Festival is a project of Tahoe Youth Ballet, founded in 2009 by Hanna, who returned to her native Lake Tahoe after a career performing with ballet companies in NYC. The professional-level company that she established only a few years ago already has a varied repertory of approximately 20 contemporary and classical works, choreographed by guest dancemakers from around the world commissioned by the company to set or create their work on Tahoe's talented artists.
For more information on this year's festival, visit www.laketahoedancefestival.org.
Photo: Festival Directors and Collaborators Christin Hanna and Constantine Baecher. Photo courtesy of the Lake Tahoe Dance Festival.