LAUNCH audition tour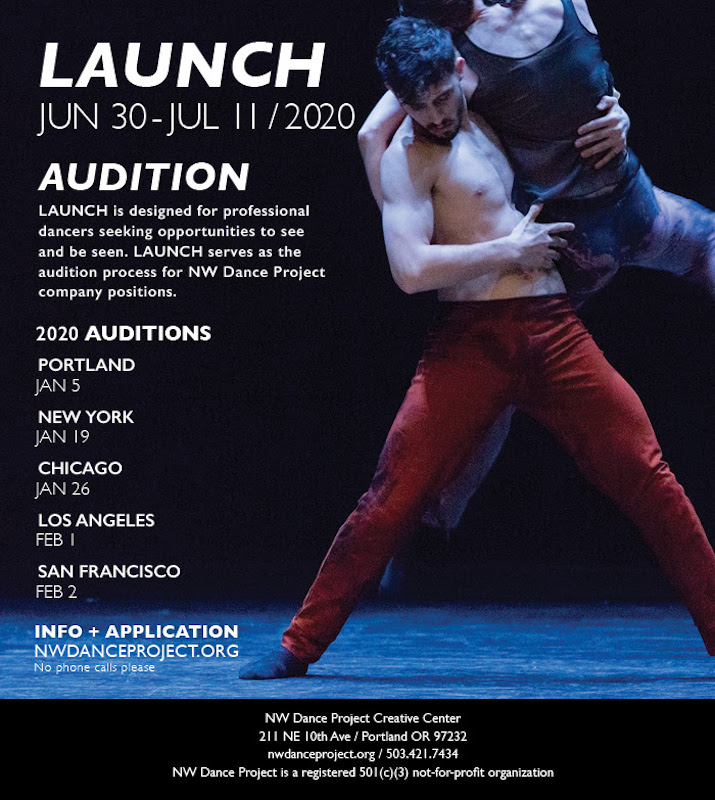 LAUNCH audition tour runs from June 30 to July 11th 2020. This is a unique project designed for professional dancers seeking opportunities to see and be seen. For their 2020 project, selected dancers will work for two intensive weeks alongside Artistic Director Sarah Slipper, and NW Dance Project's leading choreographers that have created specifically on the company and with the two winners of our annual Pretty Creatives Choreographic Competition on movement exploration, improvisation, techniques, creation and choreographic mastery.
Participation in LAUNCH is highly selective and limited in order to provide each dancer the opportunity to work directly and intimately with NW Dance Project and our guest artists and the two winning choreographers of our Pretty Creatives International Choreographic Competition.
In addition to morning master ballet classes and working closely with esteemed guest artists, experiencing their artistic and company's style and making critical professional connections, LAUNCH provides the opportunity to collaborate in the creative process. Working with two unique creative voices, the two winners of our annual Pretty Creatives Choreographic Competition, dancers will have an opportunity to present newly created works at Lincoln Performance Hall before a public audience on the final day, July 11, 2020. This is a ticketed event.
LAUNCH serves as the audition process for NW Dance Project company positions for dancers. All interested dancers must audition in-person for LAUNCH.
For further information visit: http://nwdanceproject.org/projects-intensives/launch/