Lauren Grant still Marie in 'Hard Nut'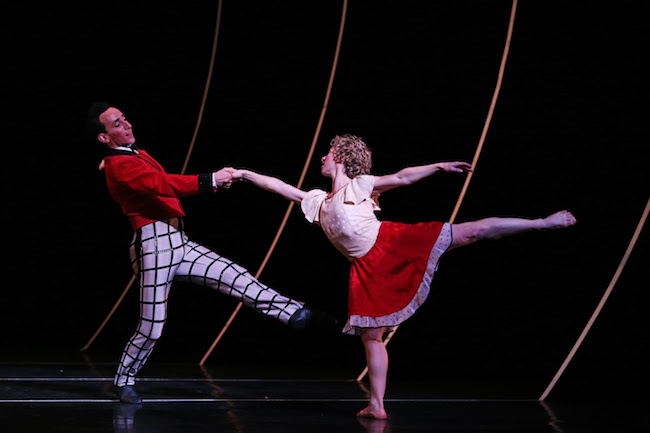 Mark Morris Dance Group's colorful classic The Hard Nut returns to BAM in Brooklyn on December 14 – 23. Company member Lauren Grant is back for her 20th year performing as Marie. Grant, who was honored with a New York Dance and Performance "Bessie" Award for her career with the company, has danced with MMDG since 1996.
The Hard Nut is a cheeky, yet reverent, homage to The Nutcracker, and is regarded as an exhilarating New York City tradition. Morris sets the action in the swinging 1970s against vibrant pop-art inspired backdrops conceived by cartoonist Charles Burns and Adrianne Lobel, complete with go-go boots, G.I. Joe soldiers, a dancing Barbie doll and a Waltz of the Snowflakes like no other. The work blends ballet, modern and folk dance in a way that is fresh and unique.
Fun for the entire family, The Hard Nut takes its title from the story-within-a-story of Hoffman's The Nutcracker and the Mouse King, wherein an evil Rat Queen promises to restore the Princess Pirlipat's beauty if a young man can crack the "hard nut" with his teeth. This mix of playfulness and exquisite dance, combined with the greatest respect for E.T.A. Hoffmann's original nightmarish story and Tchaikovsky's complete, original score, performed by a full 53-piece live orchestra, earned The Hard Nut the winning spot in Ovation TV's Battle of the Nutcrackers contest three years running.
Overall, The Hard Nut returns to BAM for its seventh holiday season with 33 dancers and The Hard Nut Singers, comprised of students from Brooklyn Friends School, Brooklyn Music School, Brooklyn Technical High School, MS51 and The School at the Mark Morris Dance Center.
In addition to Grant celebrating a second decade performing this show, beloved Hard Nut veterans John Heginbotham (Mrs. Stahlbaum/Queen) and June Omura (Fritz) will both reprise their gender-bending roles, along with Brandon Randolph in the iconic en pointe role of the Housekeeper, only the second person to play this part since The Hard Nut premiered at BAM in 1992. Plus, Mark Morris himself will reprise the roles of Dr. Stahlbaum and the King.
For more information, visit www.MarkMorrisDanceGroup.org.
Photo: Lauren Grant performing in The Hard Nut. Photo by Julieta Cervantes.