Le Corsaire at London Coliseum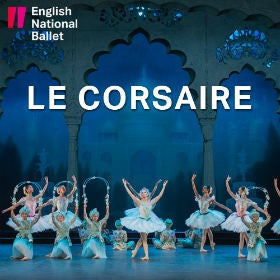 Having delighted audiences of more than 100,000 around the world with tours including Japan, Paris, and Spain, Le Corsaire returns to the London Coliseum (January 8-14). The only UK company to perform the complete work, English National Ballet's production was staged by Anna-Marie Holmes and features sets by Hollywood designer Bob Ringwood, and a sweeping score performed live by English National Ballet Philharmonic.
Principal casting sees Lead Principals Alina Cojocaru, Erina Takahashi and Fernanda Oliveira, Principal Shiori Kase and First Soloist Katja Khaniukova named in the role of Medora. Lead Principals Isaac Hernández, Joseph Caley and Jeffrey Cirio, Principal Francesco Gabriele Frola and Guest Artist Brooklyn Mack as Conrad.
Also announced are those who are dancing the roles of Ali, Birbanto, Gulnare, and Lankendem. Artist of the Company Miguel Angel Maidana will debut in the role of Birbanto.
Please note, casting is subject to change. Please see www.ballet.org.uk for up to date casting.