LEAP! coming to U.S. cinemas this fall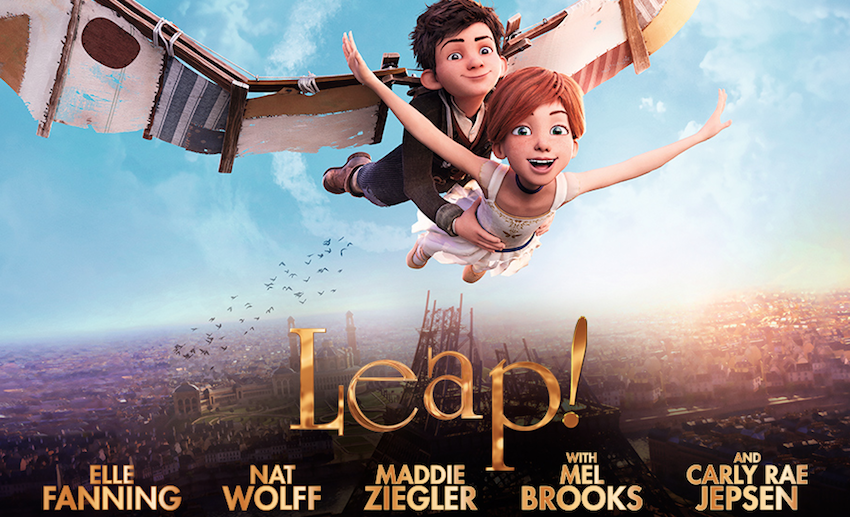 The Weinstein Company's animated film LEAP! about an 11-year-old orphan who dreams of moving to Paris to become a dancer was originally set to open nationwide on Friday, April 21. But according to Variety, the release date has now been pushed back to September.
The film—which stars Elle Fanning, Nat Wolff, Maddie Ziegler, Carly Rae Jepsen, Kate McKinnon and Mel Brooks—was already released in other countries like Australia under the name Ballerina.
In a press release, The Weinstein Company's Co-Chairman Harvey Weinstein said, "I can't tell you about how much I love LEAP! and that's why I'm moving it. We have made the decision to move back to Labor Day and build the awareness and excitement within our audience. As always, I want to do what is best for the film, which I think is the best animated film I've ever made, and test audiences have agreed."
In the film, Félicie (Elle Fanning) has a best friend named Victor (Nat Wolff) who accompanies her on her adventures. An imaginative but exhausting boy with a passion for creating, he has a dream of his own – to become a famous inventor. In a leap of faith, the two friends leave their orphanage in pursuit of their passions. But there's a catch – Félicie must pretend to be the child of a wealthy family in order to gain admittance to the prestigious and competitive Paris Opera Ballet School. And with no professional dance training, she quickly learns that talent alone is not enough to overcome the ruthless, conniving attitudes of her fellow classmates, led by the devious Camille Le Haut (Maddie Ziegler).
Still determined to succeed, Félicie finds her mentor in the tough and mysterious school custodian, Odette (Carly Rae Jepsen), who, along with Victor's encouraging friendship, help her reach for the stars.
LEAP! is described as a charming story about following your heart and never giving up on your dreams. It promises to be a heartwarming adventure perfect for the whole family.
For more information, visit http://weinsteinco.com. Watch the trailer below.
The film is still set to have its American premiere on Saturday at the Bentonville Film Festival in Arkansas.