Legendary dancer Mary Anthony passes away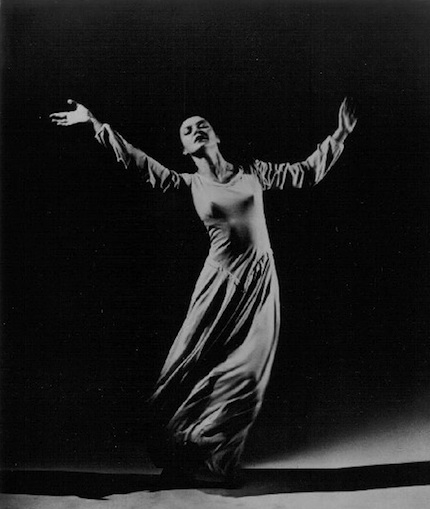 Mary Anthony, a national treasure and legend of modern dance, died in her studio home in the East Village in New York City on May 31, 2014 at the age of 97. Daniel Maloney, the current Artistic Director of the Mary Anthony Dance Theater Foundation and a former company member himself, was like a son to her and took care of her to the end.
Mary Anthony is recognized as one of the leaders of the modern dance movement both as a choreographer and an exceptional teacher. She was the 2004 recipient of the Bessie Award for lifetime contribution to the field of modern dance. In 2006, she received the Martha Hill Award. Other awards and honors include: Joy Ann Dewey Beinecke's Balasaraswati Award from American Dance Festival, American Dance Guild Award of Artistry, American Dance Association Award, New York State Dance Education Award and Channel One New Yorker of the week. In 2004, Anthony was entered into the Dance Hall of Fame as part of an installation for the New Dance Group at the Saratoga Dance Museum, and in 2011 she received a Citation from New York City Comptroller Scott Stringer at her 95th birthday, declaring November 11 as "Mary Anthony Day."
Anthony, a native of Kentucky, began her career with a scholarship in dance with Hanya Holm in the early 1940s, eventually joining the Holm Company and becoming her assistant. She was an original member of the radical modern dance organization The New Dance Group in the '40s. Anthony danced in concerts with Joseph Gifford as well as appearing in many Broadway shows. Her staging of the London production of Touch and Go, in which she danced one of the leading roles, resulted in a long association as choreographer for Italian Musical Theater.
Anthony started the Mary Anthony Dance Theater in 1956. Following the premiere of her signature work Threnody – for which composer Benjamin Britten gave his special permission to use his Sinfonia da Requiem – Louis Horst wrote, "Here is the most beautiful and complete dance composition this observer has seen."
Her company performed throughout the United States for over 40 years, including appearances at Jacob's Pillow, The American Dance Festival, the Berkshire Music Festival at Tanglewood and toured as part of the Dance Touring Program of the National Endowment for the Arts, and for over 30 years presented home season performances in New York City.
In 1996, Mary Anthony Dance Theater celebrated its 40th Anniversary season at The Sylvia and Danny Kaye Playhouse in New York City. In 2004, Anthony reconstructed one of her oldest works, Women of Troy, on Dancefusion, which was presented in Philadelphia along with her legendary solo Lady Macbeth, danced by Mary Ford Sussman. In 2009, her 1952 work The Devil in Massachusetts was reconstructed by the 360º Dance Company.
An internationally recognized choreographer, Anthony has had her works added to the repertory of Pennsylvania Ballet, Bat-Dor Company of Israel, the Dublin City Ballet, Dancefusion in Philadelphia and the National Institute for the Arts of Taiwan. She taught at the Herbert Berghof Studio for Actors in New York City for many years. She taught at her own studio at 736 Broadway for over 50 years, retiring only last year. Last November, a Tribute to Mary Anthony was presented as part of Fridays At Noon at the 92nd Street Y, honoring her legacy in modern dance and her 97th birthday.
Mary Anthony has been an extraordinary presence in the dance community and the artistry and depth of her choreography is timeless. She will live on through the dancers she trained and the people who loved her.
Andrea Pastorella, one of her long-time students, stated the following: "Mary continued to teach; she never lost her 'eagle eye.' Even when the right eye failed, she never missed a blink. She would only give a compliment if she really meant it. Her honesty was relentless. One of the things that she loved most was teaching her choreography workshops, which culminated twice a year at her studio with performances. She used to say: 'These shows are what I live for!'"
Donations in Mary Anthony's memory can be made to the Mary Anthony Dance Theater Foundation and sent to 736 Broadway, New York, NY 10003. A memorial service will be scheduled in July. Call the studio at 212-674-8191 for more information.
Photo: Mary Anthony performing in The Wind in 1947. Photo by Peter Basch.