Living Ritual to gather Indigenous artists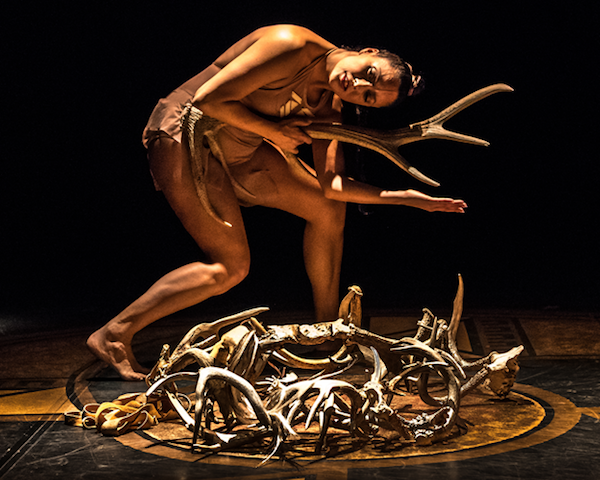 Kaha:wi Dance Theatre, one of Canada's leading performing arts companies based in Toronto, will soon host Living Ritual, an international Indigenous performing arts festival. The special event will take place in Tkaronto (Toronto) at Harbourfront Centre's Fleck Dance Theatre from July 25-27.
The festival will create space for Indigenous artists, arts and culture enthusiasts, and both local and global delegates from across Turtle Island (Canada, United States), Aotearoa (New Zealand) and Australia to gather, network, perform, celebrate, promote and dialogue about Indigenous artistic practice. Living Ritual's vision is Indigenous-led by Dora Mavor Moore Award and recent REVEAL Indigenous Arts Award-winning Artistic Director Santee Smith, and Artistic Producer, Curator and Festival Executive Producer Cynthia Lickers-Sage.
"Living Ritual carves out space for artists and audiences to be creative, share and connect, passing on knowledge in the most exciting and transformative ways," said Smith, who earlier this year took her first-ever trip to Nunavut while touring her critically-acclaimed NeoIndigenA performance piece (that will appear at Living Ritual) across the U.S., northwestern Canada and New Zealand.
"It's all about placing artists at the centre, from which springs forth conversation, understanding and connection," she continued. "This festival also speaks to the power of place (Tkaronto) and kinship relations to the land and people. If someone wants to understand more about the Indigenous experience, Living Ritual offers some insight."
The festival will present a wide array of contemporary and experimental works crafted from Indigenous methodology, voice and body – uniting past, present and future dance and theatre practices.
Living Ritual will open with an Onkwehon:we Edge of the Woods Welcome Ceremony. Then it's programming will include master classes, performative lectures and panel discussions. Next, the program will shift in the evening to include one-night-only public performances and premieres from internationally renowned artists and companies.
These include the pioneering Spiderwoman Theater (New York, USA) presenting Aanmitaagzi's Material Witness; Qaggiavuut Nunavut Performing Arts' (Nunavut, Canada) new work Kiviuq Returns, which recently premiered at the National Arts Centre's Canada Scene; the world premiere of [MIS]CONCEIVE by Thomas E.S. Kelly (Queensland & New South Wales, Australia); the critically-acclaimed We Wait in the Darkness by Rosy Simas Dance (Minnesota, USA); and Kaha:wi Dance Theatre's own NeoIndigenA by Artistic Director Santee Smith.
At a time when many colonizing structures are openly being called into question, Living Ritual will also seek to offer an honest public forum to dialogue on decolonial processes and push button issues, discuss global issues in Indigenous performance, and engage in professional development, while promoting artistic cross-pollination and inter-cultural collaborations.
For more information, visit www.kahawidance.org.
Photo courtesy of Kaha:wi Dance Theatre.