London Studio Centre on tour throughout U.K.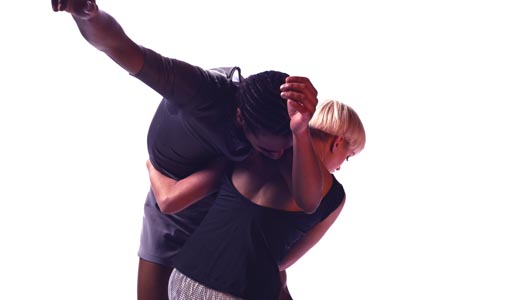 Starting this month, London Studio Centre, a comprehensive dance and theatre training institution, is sending many of it's final-year fulltime students on tour throughout the U.K. with one of the centre's three performing companies.
Intoto Dance, the centre's contemporary dance company led by Artistic Director Sue Booker, embarked on its tour this week, with the first date at The Auden Theatre in Holt, Norfolk. The tour will take the company to a range of public and private venues across greater London, Sussex, the Midlands and East Anglia, before two final shows on June 17 and 18 at The Place in central London, one of the U.K.'s premier performance venues for contemporary dance. The tour includes choreography from award-winning and emerging artists in the field of contemporary dance in what promises to be a dynamic and theatrical evening of dance.
The Jazz Dance Company will kick off its tour at The Capitol in Horsham on June 4 before lighting up stages across the southern counties with its athletic and vibrant program ranging from contemporary jazz and hip-hop, to tap and music theatre. With new works from a variety of leading choreographers in today's dance and theatre scene, this year's production, entitled Circus of Dreams, also includes dancers from Images of Dance, London Studio Centre's final-year classical company, creating an exciting blend of styles. The 2014 tour will culminate in a performance at the Peacock Theatre in the West End on July 9. Under the direction of Robbie O'Reilly, the company will feature choreography by Paul Roberts, Christian Storm, Kevan Allen, Jenna Lee, Mandy Montanez, Jack Evans and Ashley Andrews.
Meanwhile, London Studio Centre's music theatre company, Seedtime, is also busy preparing for its run at the Pleasance Theatre in Islington on June 20-22. Following a successful showcase in the West End in April, the company will present Little Shop Of Horrors, the acclaimed comedy-horror musical with music by Alan Menken and book and lyrics by Howard Ashman. The spoof sci-fi show, with a rock-and-roll and Motown-inspired score, has been critically acclaimed since its off-Broadway premiere in 1982. Led by Artistic Director Matthew Shaw, Seedtime is sure to impress.
To find out more about London Studio Centre's company tours, or for booking details, visit www.london-studio-centre.co.uk.
Photo: Intoto Dance. Photo courtesy of London Studio Centre.