Louisville Ballet reveals season finale program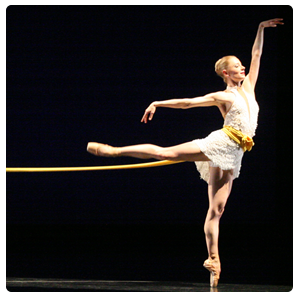 Kentucky's Louisville Ballet has announced the works selected by its new Artistic Director Robert Curran for the company's final production of the 2014-15 season: A New World. Performances are set for April 10 and 11 at the historic Brown Theatre in downtown Louisville.
This is Curran's first season with Louisville Ballet and the first program that he has chosen for the company. It celebrates the artistry of 20th-century ballet while pushing the art form forward into the 21st century and beyond.
The line-up for A New World includes ballet luminary Serge Lifar's Suite en Blanc with music by Edouard Lalo and staging by Claude Bessy; ballet legend George Balanchine's Square Dance with music by Antonio Vivaldi and Arcangelo Corelli; and the world premiere of What Light is to Our Eyes by Australian choreographer Lucas Jervies.
Tickets are available now via The Kentucky Center. To purchase, visit kentuckycenter.org or call (502) 584-7777. Louisville Ballet is the State Ballet of Kentucky and has over 70 world premiere ballets to its credit.
Photo courtesy of Louisville Ballet.