Louisville Ballet's 2013-2014 Season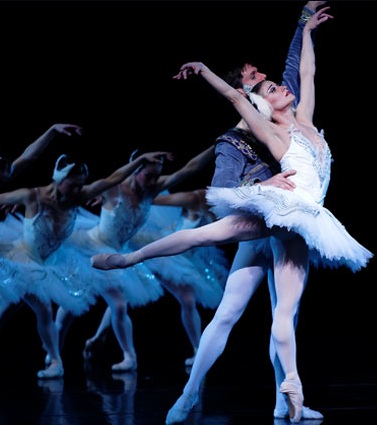 For the upcoming 2013-2014 season, Artistic Director Bruce Simpson pulls Louisville Ballet back to the roots of classicism while simultaneously continuing to challenge traditional ballet standards with new works being presented by current, prominent choreographers.
Kicking off the season, Louisville Ballet will present Swan Lake, one of the most well-known and beloved classical ballets, on September 13 and 14. Set to the timeless music by Piotr Ilyich Tchaikovsky, Swan Lake weaves the story of an evil sorcerer who casts a spell on a princess. The princess magically transforms into a swan every evening at midnight, an enchantment that may forever prevent her from being united with her true love. As a story of romance, sorcery and betrayal, Swan Lake embodies all the beauty, strength and grace of classical ballet.
In December, Louisville Ballet will present its fifth annual Brown-Forman Nutcracker. A family favorite, this production will feature the choreography of Val Caniparoli and the traditional scores composed by Tchaikovsky. This holiday ballet will run December 7-22.
After ringing in the New Year, Louisville Ballet will welcome 2014 with La Sylphide on February 21 and 22. La Sylphide, one of the world's oldest surviving romantic ballets, is about a winged sylph (fairy) who uses her magical charms to lure a Scottish man away from his fiancée. Choreographed by Auguste Bournonville and staged by the Louisville Ballet Artistic Staff, the ballet will float between the extremes of love and loss.
In April 2014, the company will present its main contemporary ballet production with Complimentary Voices, an evening of three fresh works created by three prominent male choreographers. The program will include Ma Cong's Tethered Pulse, which was premiered by Tulsa Ballet in 2011 and is set to music by Zoe Keating and Joan Jeanrenaud; Adam Hougland's Fragile Stasis, which was premiered by Louisville Ballet in 2007 
and is set to music by Gavin Bryars; and lastly, a world premiere by Val Caniparoli. Tulsa World wrote that Cong's Tethered Pulse is "a ballet about the ways couples maintain a connection, the various forms that a romance can take." The Courier-Journal wrote that Fragile Stasis has "the sensation of a ceremony turned on its head, a peculiar kind of formality cloaked in Hougland's methodical eagerness to probe and disturb."
In addition to the main season, the Louisville Ballet will also present the Studio Series, in-studio productions that provide audiences a chance to see the artists of the company "up close and personal." This includes two performances, Studio Connections in late October and the Choreographers' Showcase in January 2014.
For more information on the main season or the in-studio shows, visit www.louisvilleballet.org.
Photo: Louisville Ballet's 2010 production of Swan Lake. Photo courtesy of Louisville Ballet.