M.A.D.D. Rhythms presents the 2020 Virtual Chicago Tap Summit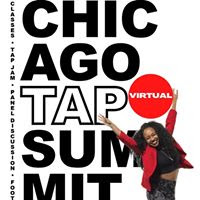 M.A.D.D. Rhythms and Harold Washington Cultural Center are proud to present this year's Chicago Tap Summit October 2nd-4th, now held virtually, with respect to CDC guidelines for social distancing during the COVID-19. The Chicago Tap Summit (CTS) is an annual celebration of the Tap art-form.
Presented in partnership with Harold Washington Cultural Center, they invite anyone and everyone with love for the dance to join their faculty of Chicago tap pioneers and boundary-breakers alike, as they focus on building community, preserving history, and above all showing Respect for the Dance.
Building off the success of their M.A.D.D. Virtual Tap Experience (MVTE) in May, they're pleased to offer pre-recorded classes from world-class dancers for attendees, and live streamed events available for the public. You can join them to watch classic tap footage, tap jams, and discussions.
The event will culminate in a live-streamed premiere from the company, entitled M.A.D.D. Greatest Hits. While the event occurs over one weekend, online classes and registration will remain available until Oct. 16th.
For further information visit: maddrhythms.com