'Made in Bangladesh' to premiere in Germany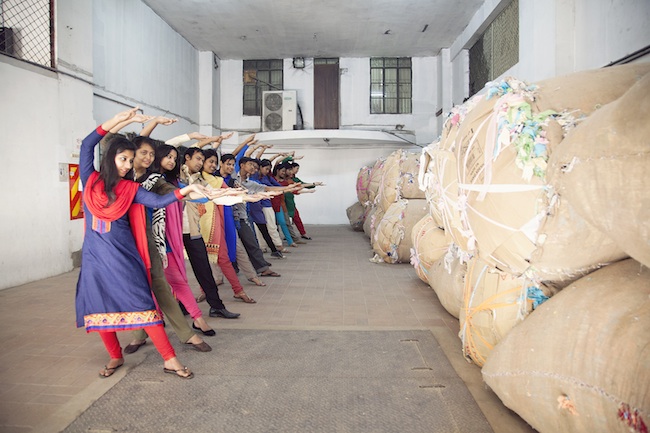 Working at the intersection of stage direction, choreography and sociological field research, globetrotter Helena Waldmann produces, tours and commits herself to projects as far reaching as the Middle East and Latin America to Asia and Africa. Her latest project, a dance production called Made in Bangladesh, examines the hard working conditions in the Bangladesh textile industry.
The work, which is being produced alongside a feature-length documentary, will premiere in Germany this November before embarking on a European tour to Luxembourg and Switzerland, amongst many other German locations.
Made in Bangladesh was created during an intensive rehearsal period on-site in Dhaka in the winter and spring. Waldmann and her team of dancers were allowed to dance and film inside the garment factories. What more, the company was able to put the production conditions of our shirts to the test and explore the view of factory owners – a perspective rarely brought to the public.
The fact that Helena Waldmann found her cast in the capital of Bangladesh was no chance, and neither was the extended rehearsal period. One of the dancers, Munmum Ahmed, who ranks among Bangladesh's most prominent and most popular Kathak dancers, was shown star status and acquired numerous television appearances during Waldmann's research. Ahmed's celebrity allowed the team to gain permission to research factories and the access to shoot video sequences for the piece.
Made in Bangladesh is a socially and politically charged dance work, providing a new way to question the ethics of the notorious sweatshops of the garment industry and the "supposedly legitimate artistic 'sweatshop' of a dance studio." The work concludes that they have more in common than our cultural establishment would like to admit, saying: "Both dancers and seamstresses work at the expense of their health, fobbed off with low wages and at constant risk of losing their jobs to someone even younger, even more flexible."
For more information on this new dance work, visit www.ecotopiadance.com. The world premiere of Made in Bangladesh will be presented in Ludwigshafen, Germany on 
Wednesday, November 26.
Photo: Made in Bangladesh cast in factory. Photo by Helena Waldmann.