Madonna to direct film on Michaela DePrince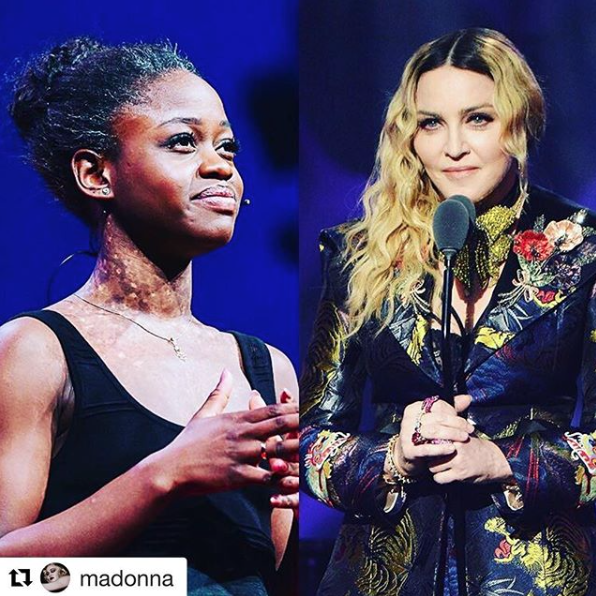 This week, Metro Goldwyn Mayer Pictures (MGM) revealed that none other than global icon Madonna will be directing the new movie Taking Flight, based on ballerina Michaela DePrince's memoir. DePrince is a Sierra Leonean-American ballet dancer who is currently performing as a soloist at Dutch National Ballet. She first gained national attention when she was in the 2012 ballet documentary First Position. Her book Taking Flight: From War Orphan to Star Ballerina, which she co-wrote with her adoptive mother, Elaine DePrince, garnered her international coverage. Then she played a small role in Beyoncé's Lemonade – putting her in front of millions of viewers.
Speaking on her work with Madonna, Michaela DePrince posted on her Instagram, "So excited to announce that I'm working with this wonderful human being and she's directing my movie about my life."
DePrince added, "Another incredible person I'm excited to work with is the one and only @thecamillard."
Camilla Blackett, known for Fresh Off the Boat, New Girl and The Newsroom, will adapt the screenplay for Taking Flight.
DePrince's life journey will certainly be powerful on screen. Her father was shot and killed by rebels when she was just three and living in Sierra Leone's civil war. A mere seven days after her father's murder, her mother died of fever and starvation. Michaela lost three brothers as well. It was her uncle who sent her to live in an orphanage, where she was eventually adopted. Her new U.S. family (which included 11 children — nine of which were adopted) encouraged her talents and helped her pursue ballet. She trained at American Ballet Theatre and after graduation she debuted in the Joburg Ballet in South Africa at age 17.
According to Deadline, Madonna said, "Michaela's journey resonated with me deeply as both an artist and an activist who understands adversity. We have a unique opportunity to shed light on Sierra Leone and let Michaela be the voice for all the orphaned children she grew up beside. I am honored to bring her story to life."
Madonna parents four children that she adopted from Malawi. She founded the children's nonprofit Raising Malawi in 2006. As a film director, she has worked on the comedy Filth and Wisdom (2008), the drama W.E. alongside Alek Keshishian (2011) and is currently co-writing and directing an adaptation of the novel The Impossible Lives of Greta Wells. Furthermore, she produced and wrote "I Am Because We Are", a documentary considering the lives of Malawi's orphans.
MGM Production President Jonathan Glickman reportedly said, "We could not be more thrilled that Madonna will bring this remarkable story to the big screen. There is no director better suited to tell Michaela's journey with passion and sensitivity, and we cannot wait to bring this film to audiences all around the world."
The production start date hasn't been finalized yet.
Image courtesy of @madonna.