Mark Morris' 'L'Allegro' airing on PBS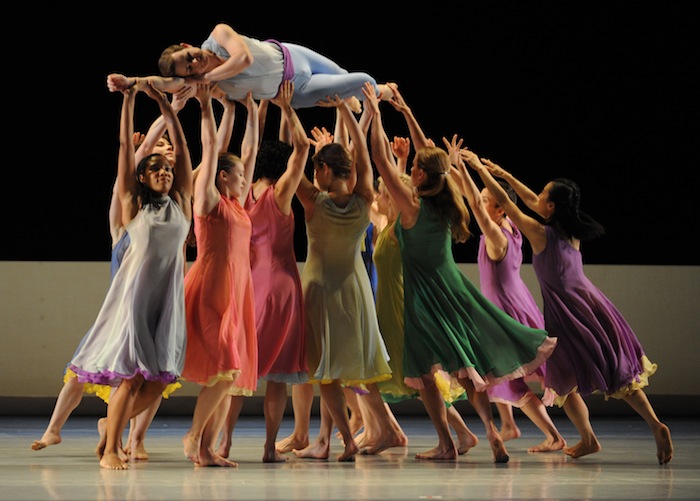 Choreographer Mark Morris, renowned for his New York-based company Mark Morris Dance Group, has garnered international fame for his 1988 work L'Allegro, il Penseroso ed il Moderato, a piece considered a landmark achievement and set to Handel's Baroque masterpiece. Morris, who was recently selected to join the National Museum of Dance's Hall of Fame, uses a colorful array of dancers to embody the ecstasy of art in L'Allegro.
Now dance enthusiasts across the country can enjoy the work thanks to PBS's Great Performances series! Mark Morris Dance Group: L'Allegro, il Penseroso ed il Moderato – hosted by dance icon Mikhail Baryshnikov – airs on PBS this Friday, March 27 at 9 p.m. (Check local listings.)
In discussing the work, Baryshnikov has admired "the way they perform it – with pride for humankind." He stated, "There's restraint and dignity and satisfaction and pride. But at the same time, there is an unspoken camaraderie; hands touching, running and they suddenly become one and disappear like nothing has happened onstage."
The performance was filmed in July 2014 at the Teatro Real in Madrid, Spain. L'Allegro was Morris' first work as Director of Dance at the Théâtre Royal de la Monnaie in Brussels, Belgium on November 23, 1988, and in the intervening years, has been performed to critical and audience acclaim all over the world. Winner of numerous awards, including a Laurence Olivier Award, L'Allegro uses Milton's text (sung in English and performed without super titles) and features sets inspired by William Blake's later watercolors.
"It is Mr. Morris's great achievement to have further intensified the composer's eloquence by expressing his lyric energy in powerfully expressive bodily movement, and, moreover, to have done so with such naturalness that the music sounds as though the composer had intended it to be danced from the beginning," observed The Wall Street Journal.
And reviewing a recent New York revival of the work, Alastair Macauley of The New York Times marveled, "It seemed a masterpiece in its opening season; 25 years on, it is also a classic."
Visit www.pbs.org/gperf for additional information about this and other programs.
Photo: Mark Morris Dance Group in L'Allegro, il Penseroso ed il Moderato. Photo by Kashvili.