'Mary Poppins' breaks record for GA theatre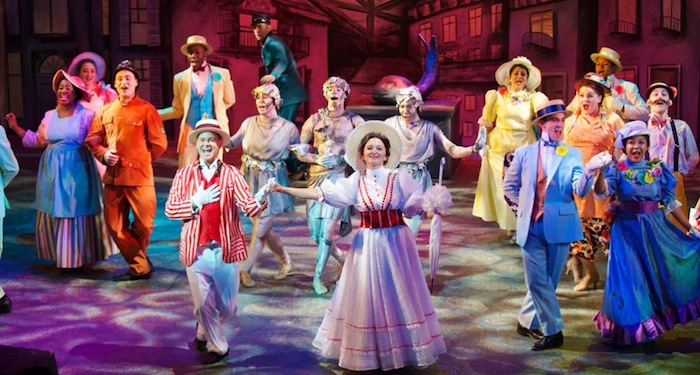 The Aurora Theatre, a world-class theatre and live entertainment venue nestled in suburban Lawrenceville, Georgia, kicked off its 19th season in mid-July with its take on the beloved family musical Mary Poppins. The production, which was directed by Justin Anderson 
and choreographed by Jen MacQueen, quickly became the most successful show in the theatre's history.
Disney and Cameron Mackintosh's Mary Poppins flew to the top of box office records during its seven-week engagement. The "practically perfect'" musical entertained 10,663 patrons over a 43-show period. The 2013 run of Les Misérables previously held the Aurora Theatre house record.
"From the beginning, we knew that Mary Poppins would be special, but we never anticipated the magic to extend to such amazing heights," said Anthony Rodriguez, producing artistic director. "Mary Poppins and our talented group of artists brought great awareness to our community, and we are thrilled for what lies ahead for our organization, the city of Lawrenceville and Gwinnett County."
This record-breaking engagement shared a number of community milestones throughout the seven-week run. In a celebration of community arts and culture, Aurora Theatre and the City of Lawrenceville's Downtown Development Authority hosted the inaugural Lawrenceville Chalk Walk on July 19, during which residents and visitors were invited to showcase chalk drawing talent alongside world-renowned 3-D chalk artist Anthony Cappetto. A free event welcoming children and adults of all ages, first-place winners received a cash prize plus two tickets to see Disney and Cameron Mackintosh's Mary Poppins during its opening week. Through cross-promotional efforts with The Children's Museum of Atlanta, Aurora hosted the Museum's Imaginator Jerry G., who led an interactive, theatrical reading of "Not A Box" by Antoinette Portis about imaginative play and the power of creativity on August 9.
Exclusively for this production, which played July 17- August 31, youngsters ages 6-12 were invited to participate in "Jolly Holiday Parties" on July 26 and August 16, where they enjoyed activities, photos and a special snack with Mary Poppins and Bert before attending the day's matinee. In addition to regular scheduled performances, an Autism & Sensory Friendly Show was held on August 30. Designed for children and adults on or affected by the autism spectrum and those with sensory issues, the slightly altered version provided audiences with a comfortable, safe and judgment-free environment to enjoy the magic of Mary and her many adventures.
"Mary Poppins has put Aurora Theatre on the map," said Ann-Carol Pence, the theatre's associate producer. "A hidden gem no more, we are a premier destination for visitors and residents looking for Broadway-quality entertainment."
Upcoming shows in the theatre's Signature Series includes: Clybourne Park (October 2-26), Christmas Canteen 2014 (November 20 – December 21), Les Misérables (January 15 – March 1, 2015), The Explorers Club (March 26 – April 19, 2015) and Hands On A Hardbody (May 7- 31, 2015.) For more information on Aurora Theatre, visit www.auroratheatre.com.
Photo: Andy Meeks, Galen Crawley and ensemble in Disney and Cameron Mackintosh's Mary Poppins. Photo by Chris Bartelski.