Meet Tony Dovolani of DWTS!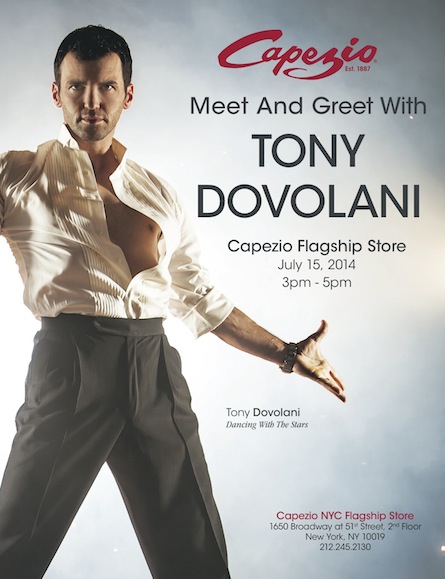 Tony Dovolani, a professional dancer who has been performing on ABC's hit show Dancing with the Stars for 17 seasons, will be visiting numerous cities around North America this summer to lead master classes and to meet dance enthusiasts like you!
One exciting opportunity to meet Dovolani will be in New York City on Tuesday, July 15! Capezio will host a Meet and Greet with Dovolani at their NYC Flagship Store, located at 1650 Broadway at 51st Street, 2nd Floor, New York, NY.
The award-winning ballroom star will also visit: Indianapolis, Indiana on Friday, July 11; Tampa, Florida on Sunday, August 3; and Toronto, Ontario, Canada on Thursday, August 14. Other dates and locations will be announced soon!
Rob Roy of the Dancesport Division at Capezio, who is coordinating all meet-and-greet events with Dovolani, said this is a special opportunity for DWTS fans to meet the show's most beloved veteran and for aspiring dancers to glean wisdom from the dance giant.
For further information, email Rob Roy at RRoy@capezio.com or call him at 954-610-0132. More details will be released as they are available.