Miami City Ballet presents 'The Nutcracker'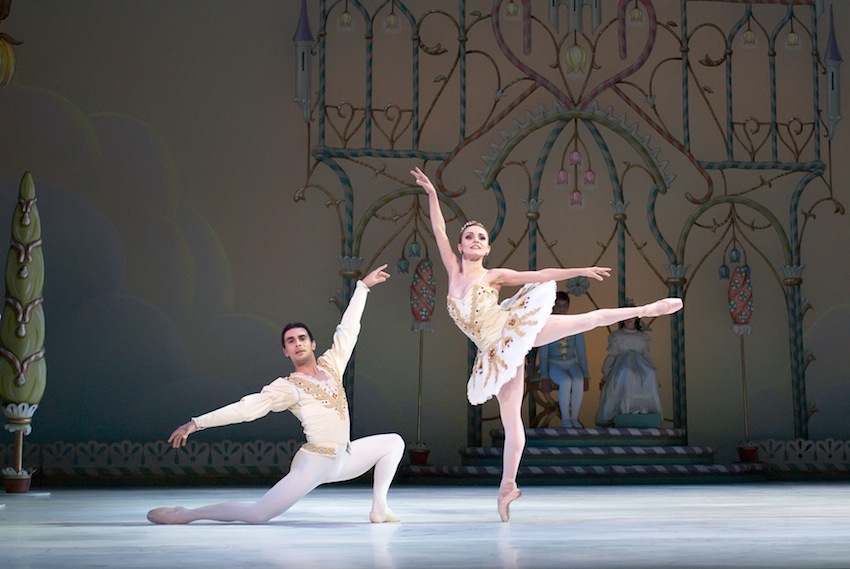 A Nutcracker doll will come to life, a Sugar Plum Fairy will dance, snowflakes will fall and smiles from children of all ages will rain down as Miami City Ballet, Florida's internationally acclaimed company under the direction of Artistic Director Lourdes Lopez, presents its enchanting holiday production of George Balanchine's The Nutcracker at the Broward Center in Fort Lauderdale Dec. 14-16 and at the Adrienne Arsht Center in Miami Dec. 20- 24. Students from Miami-Dade and Broward counties enrolled in the prestigious Miami City Ballet School will perform in the production along with the company's renowned dancers.
Based on the story The Nutcracker and The Mouse King by E.T.A. Hoffmann, George Balanchine's The Nutcracker is a captivating tale of a little girl's Christmas Eve dream about a handsome Prince, a mouse king, toy soldiers and dancers from faraway lands set to the beloved music of Tchaikovsky, brought to life by a cast of more than 100 dancers and children.
Nothing short of a feel-good, Broadway spectacular, this elaborate, full-scale musical stage production features glorious sets, lavish costumes and magical special effects. Families will be captivated watching a Christmas tree that soars from twelve to thirty feet tall, beautiful ballerinas dancing amid a live blizzard, flying sleighs, a Nutcracker doll that turns into a handsome Prince and fanciful choreography that takes the entire family on a journey to the Land of the Sweets.
With its sumptuous décor and dazzling character dance numbers, Miami City Ballet's production of George Balanchine's The Nutcracker is a ballet created for everyone, young and old.
Five performances will be presented at the Broward Center for the Performing Arts' Au-Rene Theater, located at 201 SW Fifth Ave., Fort Lauderdale, on Friday, Dec. 14 through Sunday, Dec. 16. Then another eight performances will be shown at the Adrienne Arsht Center for the Performing Arts' Ziff Ballet Opera House, located at 1300 Biscayne Blvd., Miami, on Thursday, Dec. 20 through Monday, Dec. 24.
Tickets range in price from $20 to $74 and are available online at miamicityballet.org, at the MCB box office by phone at (305) 929-7010 or in person at 2200 Liberty Ave., Miami Beach, Monday through Friday 10 a.m. – 5 p.m.
The performances follow the recent announcement that the Miami City Ballet has received a new $5 million grant from the John S. and James L. Knight Foundation. Jim Eroncig, president of Miami City Ballet's Board of Governors, said that this funding will help the organization become a greater part of the South Florida community.
"Miami City Ballet is already an internationally-acclaimed dance company by critics and audiences around the world," Eroncig said. "These funds will help Miami City Ballet become better known and appreciated by local audiences who have not yet had the pleasure of discovering the dance treasure they have in their own back yard."
Photo: Miami City Ballet dancers Renato Penteado and Mary Carmen Catoya dancing as Cavalier and Sugar Plum Fairy in George Balanchine's The Nutcracker. Choreography by George Balanchine © The George Balanchine Trust. Photo courtesy of Miami City Ballet.