'Mill Town' shifts Bates Dance Festival's focus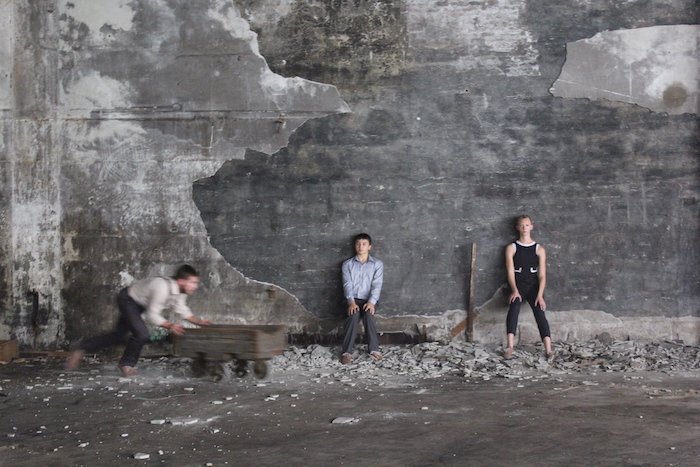 The final weekend of the 2017 Bates Dance Festival in Maine will begin with two performances of an immersive event featuring 60 dancers with live music, video and installations in and around the Bates Mill Complex in downtown Lewiston.
Internationally renowned site choreographer Stephan Koplowitz's Mill Town will take place at 8 p.m. this Thursday and Friday, August 3 and 4, in the mill at 130 Mill Street.
Inspired by the geography, industry and culture of Lewiston-Auburn, once a major center for textile and shoe production, Koplowitz has designed Mill Town for a multigenerational cast of professional and local dancers. The initial spark for the work was a series of conversations with Museum L-A, which interprets the history of Lewiston-Auburn.
The piece features original music by award-winning composer Todd Reynolds, scenic and media design by Shawn Hove, video by Ellen Maynard and costumes by Melody Eggen.
Officially three years in the making, Mill Town is structured as a promenade for the audience through the mill, with evocative scenic and media installations, video footage shot throughout the city and artifacts from Museum L-A, which occupies part of the complex.
Koplowitz—whose honors include a 2003 Guggenheim Fellowship in Choreography, six National Endowment for the Arts Choreography Fellowships and Time Out Magazine's Award for Best Dance Production of 1996—joined other members of his creative team for "Making 'Mill Town': A Collaborator's Conversation" last week at Museum L-A Gallery.
Lena Corner, a writer for a London publication, has previously stated, "Koplowitz is a master of the monumental. His one-of-a-kind, site-specific pieces, which assemble hoards of dancers within unusual urban locations, [put] a unique slant on both architecture and dance."
Dance writer Debra Cash will afford insight into Koplowitz and his work with a 7 p.m. Inside Dance lecture preceding Friday's show.
Tickets are $20 for adults, $15 for seniors and $12 for students. Online tickets are available at www.batestickets.com. For more information, visit www.batesdancefestival.org or call the Box Office at 207-786-6161.
Photo by Stephan Koplowitz.