Milwaukee Ballet to present contemporary adaptations of iconic pieces from the legendary Ballets Russes at The Pabst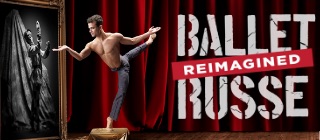 Milwaukee Ballet offers contemporary adaptations of iconic ballets in the next program of its 50th Anniversary Season, Ballet Russe Reimagined, running Feb 13-16, 2020 at the Pabst Theater, Wells Street, Milwaukee.
Milwaukee Ballet Artistic Director Michael Pink called on choreographers from his own Company to breathe new life into classic works from the Ballets Russes, who are largely credited as the most revolutionary dance company of the 20th Century.
"Ballet Russe Reimagined will be a unique and worthy addition to our long tradition of presenting innovative new work that excites and engages the next generation of dance lovers, and keeps the artform accessible," said Pink. "The thought-provoking, contemporary adaptations of these iconic ballets will truly showcase the creativity of our artists and entertain ballet aficionados and newcomers alike."
Resident Choreographer Timothy O'Donnell will present his adaptation of Vaslav Nijinsky's The Rite of Spring. Intrigued by its premiere, which stirred a riot in 1913, O'Donnell researched the history of its creation and shifted the narrative of the famous ballet to follow the larger-than-life artists at the center of the Ballet Russes. This original work is titled Sacre, inspired by the theme at the center of his work, sacrifice.
"To me, it seems in the wonderful world of the Ballet Russes and its artists, creation led to destruction; love to loss; genius to madness," said O'Donnell.
Longtime Leading Artist Nicole Teague-Howell will offer her vision of Michel Fokine's The Firebird mainly featuring the women in the Company. This is second work Teague-Howell will have created for Milwaukee Ballet following her choreographic debut of Pull, which premiered as a part of MXE Milwaukee Mixed at The Pabst in February 2018.
"I was drawn to The Firebird because I saw an opportunity to interpret the folkloric aspect of the story into a very human one. I want to highlight intense connections and emotions by focusing on aspects of humanity that are not always easy to face," said Teague-Howell.
Garrett Glassman also made his choreographic debut during MXE Milwaukee Mixed with his original work, Affixed. He will transform Bronislava Nijinska's haunting Les Noces into a comical tale exploring the mischief men find the evening before the groom's wedding day. Glassman's adaptation will also include music from Stravinsky's Pulcinella.
"Opportunities to choreograph for a world-class ballet company are rare and I'd like to take more risks this time around" said Glassman. "I've always wanted to create a piece that involves more theatrical work as well as a comedic aspect. I hope this piece will be a chance for new ballet audiences to see that dance can be fun and entertaining and that it's not just about tutus and tights."
The original Ballets Russes was compromised of the world's most influential artists who collaborated on works that would transform the dance world forever. Musicians like Stravinsky, Debussy and Prokofiev penned original compositions while artists including Kandinsky, Benois, Picasso and Matisse designed sets. Fashion icons such as Leon Bakst and Coco Chanel created costumes.
To discover further Details on Ballet Russe Reimagined visit milwaukeeballet.org
Image courtesy of Milwaukee Ballet