Mode Dion Cosmetics aid stage beauty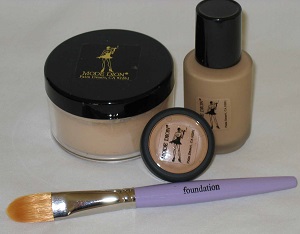 Mode Dion Cosmetics & Training was founded three decades ago by Christine Dion, a former model who is now a national makeup artist, beauty speaker, dance columnist and nonfiction author that is well known in the dance industry.
The Mode Dion Cosmetics Collection is custom designed for the special needs of performers, both on stage and on camera. Regular customers include dancers, cheerleaders, singers and models.
Some popular items for dancers are Mode Dion Cosmetics' Professional Dancers Kit and Pro Makeup Artist Brush Kit with Satin Foldout Bag.
The Professional Dancers Kit has every color needed to enhance features. This includes a 5-Color Pro Pallet Matte Eye Shadow Compact with two defining eye shades (cool and warm) for versatility, a White Pencil to widen eye corners, a Shimmer Pot to add sparkle to the center of your eyelid, a Sienna Lip Liner to define lips, a Stage Red lipstick (drama) or Rhubarb lipstick (soft/sheer), and Stage Red cheek color for the perfect flush.
The Pro Makeup Artist Brush Kit with Satin Foldout Bag includes the seven top quality sable and pony hair brushes in a large foldout satin envelope with extra storage places for adding brushes to your collection. Brushes include a large face powder, a medium cheek/contour, a angle eye definer, a round eye balance, a flat wide eye highlight, a synthetic eyeliner and a periscope designed lip brush.
Mode Dion Cosmetics is featured on all of Christine Dion's models/starlets in her publications, workshops, YouTube channel tutorials and in her numerous beauty columns, including her regular column in Dance Informa.
Check out modedion.com to see the professional product collection, training videos, articles, how-to tips and more.
Photo: Flawless Skin Oil-Free Foundation, Concealer and Translucent Powder with Foundation Brush. Photo courtesy of Mode Dion.