Moveius Contemporary Ballet performs climate inspired works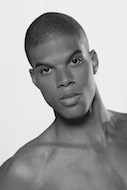 MOVEIUS Contemporary Ballet (MOVEIUS), creating a path for ballet to speak to political and societal issues, will perform a trio of climate-inspired works to The Ailey Citigroup Theater, September 23-25, 2019. Movement for Change is part of the high-profile New York Climate Week which starts with the United Nations Secretary-General's Climate Change Summit 2019.
The evening features a trio of pieces that unite art and activism. GLACIER: A Climate Change Ballet, which imagines dancers as melting polar ice caps, Rite of Spring, Crash of Fall, plays off Stravinsky's score to explore the 2008 financial collapse, and a new piece, tentatively titled Ground Control, is inspired by the first pictures taken of Earth from space.
MOVEIUS' work explores the intersection of policy and performance, thanks to the unique background of Artistic Director Diana Movius, who trained under Charlotte Ballet's Patricia McBride, and who has conducted climate policy work for the World Bank, the United Nations, and the Center for Clean Air Policy. The GLACIER broke ground in 2015 as the first ballet about climate change to be choreographed by a climate policy expert, and in 2018, it became the first ballet ever presented as part of an international climate conference last year in San Francisco. Climate Week NYC 2019, aligning with the United Nations Secretary-General's Climate Action Summit, creates the perfect opportunity for a New York premiere of the dynamic work.
Climate Week NYC 2019 will align with the second United Nations Secretary General Climate Action Summit, and will run the week of September 23, 2019. It is a place for the world to showcase climate action and includes panel discussions, concerts, exhibitions, seminars and more.
Tickets will go on sale on August 5, and will be available at moveiusballet.org.
Image: T.Walker by Patino