Myspace and Nissan Dance Contest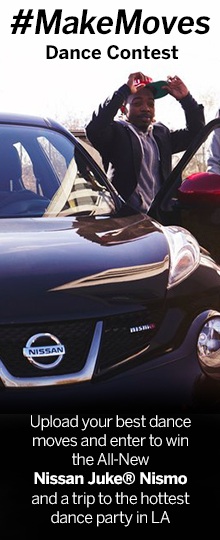 Myspace and Nissan are teaming up on an exciting dance contest to promote the All-New 2014 Nissan JUKE Nismo, a new compact sport utility vehicle.
Myspace and Nissan have been showcasing urban dance scenes on the rise across the United States, from Oakland, Detroit, New York and Miami in a photography series exclusively on Myspace.
Now the Myspace community can showcase their best dance moves through the #MakeMoves dance contest, with one lucky winner being awarded a new Nissan JUKE Nismo and a trip to a dance party in Los Angeles, CA.
Dance enthusiasts can showcase their own unique moves and enter the contest by submitting an animated GIF, photo or video on Myspace and tagging the photo @NissanJukeMakeMoves.
One hundred qualifying submissions will be selected at random for the "contest judging" phase. A panel of judges from Nissan and Myspace will then pick a winner based on relevance to the creative theme, quality of the image or video, and creativity.
The #MakeMoves event will celebrate dance and feature a live performance from a buzz worthy DJ. To highlight Myspace's first ever dance competition, the event will host LA-based dance crews and give dancers from all spectrums a place to show off their moves.
To learn more about the contest, connect with the Nissan JUKE Make Moves profile on Myspace: https://myspace.com/nissanJUKEmakemoves.