Nai-Ni Chen Dance Company present CrossCurrent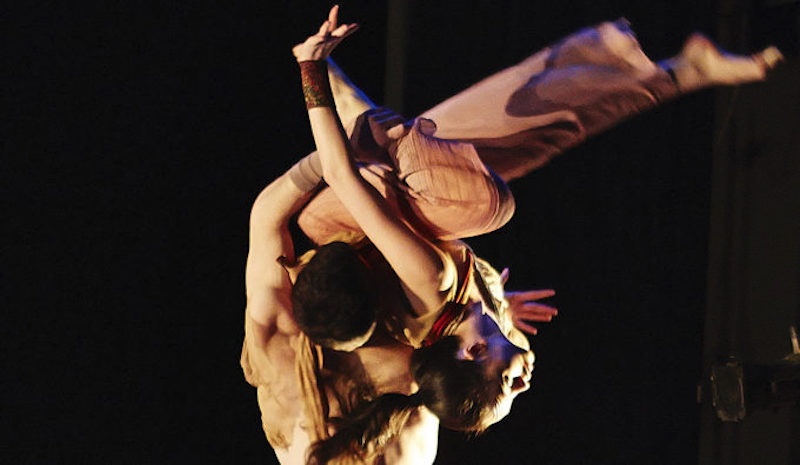 The Nai-Ni Chen Dance Company, an innovative international touring dance company that has been a leading force Asian American dance experience, will launch its 30th anniversary season at New York Live Arts with CrossCurrent, which highlights Nai-Ni Chen's distinctive experience as a female Asian American Immigrant choreographer creating new works as her journey carries her from a world-touring dancer trained in traditional Chinese culture and aesthetics to an American choreographer making socially relevant work that can resonate with the issues of today. Performances run December 5-7 at 7:30pm and December 8 at 2pm in NYC.
Highlights include Chen's Callligraphy II, Whirlwind, and recent works Breaking News! (renamed from Truthbound), Positioning and Bamboo Rap.
CrossCurrent will include some of Nai-Ni Chen's most recent works: Breaking News! developed during a residency in Trier, Germany in reaction to the crisis of faith and trust today utilizes newspapers as costume and Chen herself as the seeker for truth. She created movements with dancers using improvisation of carefully balanced traditional and contemporary imagery and energy. The concert will also include a recent signature work that has been received with enthusiastic audience support:y Bamboo Rap, an experimental piece created in collaboration with hip-hop artists and DJs exploring the sound of Chinese language with contemporary urban dance vocabulary, both rooted in storytelling and the desire for equality and justice. Duet Positioning is a new work developed with the world renowned Ahn Trio, Korean American sisters who shares the Asian American journey with Nai-Ni in their joint program A Quest for Freedom, which speaks to their common experience as successful artists working towards justice and equity and sharing their vision through their artistry. Bamboo Rap was originated from a collaboration with Beijing based Kuaiban artist XingYe Ma and then with Taiwan based Hakka Kuaiban artist CHung-Chun Chang. This new work is being further developed into a full-evening program titled Warrior Spirit inspired by the spirit of the music, literature and dance that inspired these cross-cultural phenomenon.
For further information visit: https://newyorklivearts.org/event/crosscurrent/.
Image courtesy of The Nai-Ni Chen Dance Company