'Nashville's Nutcracker' adds shows to run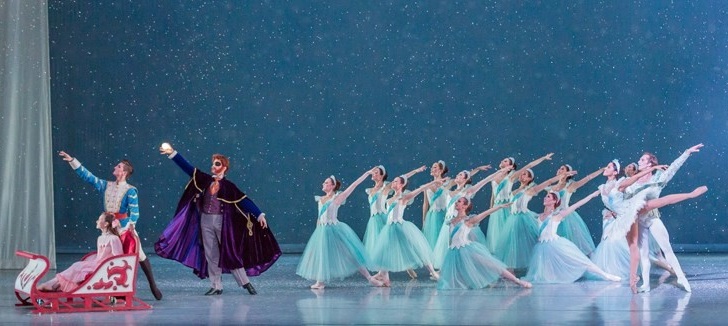 Nashville Ballet opened the holiday season on December 6 with one of Nashville's favorite annual traditions, Nashville's Nutcracker. For the seventh year in a row, Tennessee's leading dance company is presenting the quintessential production, with this year's run adding two matinee performances at 2 p.m. on December 22 and 23.
Nashville's Nutcracker first debuted in 2008, with new choreography and an original concept from Nashville Ballet's Artistic Director and CEO Paul Vasterling, celebrating Nashville's rich history and personality. The production features characters inspired by well-known local residents, including President Andrew Jackson, former Vanderbilt University Chancellor James Kirkland and the actress Lucille La Verne, a Nashville native who provided the voice of the witch in Disney's Snow White and the Seven Dwarfs.
"Nashville's Nutcracker is the perfect opportunity to incorporate Nashville's rich history into the joy and wonder of the holidays," Vasterling said. "After seven seasons presenting Nashville's Nutcracker to the community, the magical and festive production has become a local favorite. Including Nashville's strong history in the story only makes it more special."
The tale begins at the 1897 Centennial Exposition in Nashville, taking the audience on a fantastic adventure through a series of magical worlds to encounter the Snow Queen and King, the Sugar Plum Fairy and her Cavalier, and many more enchanted characters.
Along with 44 members of the professional dance company and second company, the production will also include a youth cast of more than 160 young dancers from School of Nashville Ballet and the community at large performing with the Nashville Symphony.
"Each year, we welcome Nashville youth to join our production of Nashville's Nutcracker and it's a thrill to see so many aspiring young dancers excited about the art of dance," said Sharyn Mahoney, Nashville Ballet's Director of Artistic Operations. "It's become a tradition for many of these children to participate in our production, and we're honored that they include us in their holiday festivities. It's a perfect opportunity for all of Nashville to celebrate the magic of the holiday season together."
From now through December 23, the Nashville-themed holiday classic will be in residence at TPAC's Jackson Hall. Tickets to Nashville's Nutcracker are on sale now starting at $28 and can be purchased at www.NashvilleBallet.com or by calling 615-782-4040.
Photo by Karyn Kipley Photography.