National Black Theatre Takes Over 125th Street This June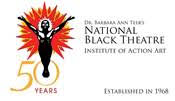 Historic theater to present world premiere of '125th & FREEdom,' a river-to-river, five-hour pop-up public dance performance series. Performances of 125th & FREEdom run from 1 p.m. to 6 p.m. on Saturdays in June, beginning on June 8, and are free and open to the public. Participants are advised to wear comfortable shoes.
Ensemble announced for the Ebony Noelle Golden-choreographed piece on gentrification and displacement, part of the venerated Harlem institution's
50th anniversary season, NBT Beyond Walls.
Dr. Barbara Ann Teer's National Black Theatre (NBT) closes out its golden anniversary season with the world premiere of 125th & FREEdom, a five-hour public performance dance project by Ebony Noelle Golden this June. Written, choreographed and directed by Golden, the piece will make Harlem's iconic 125th Street its stage as it explores the question: "If Harriet Tubman were alive today, how would she free Black people?" The event is a part of the institution's new programmatic initiative, NBT Beyond Walls, which sees the esteemed Harlem institution presenting performances throughout the city, country and internationally.
Golden, an artist, cultural strategist and the founder of Betty's Daughter Arts Collaborative, is the inaugural SOUL directing resident in NBT's SOUL Series L.A.B. (Liberating Artistic Bravery), a contemporary residency program that mentors creatives using NBT pedagogy.
Composed of 16 movements and featuring a New Orleans-style brass band, the choreopoetic performance will take place at 11 sites as pop-up installations across the corridor of 125th Street from the East River to the Hudson River each Saturday in June, beginning on June 8. 125th& FREEdom sees a victorious, but battle-weary tribe of nomads led by Tubman's descendent on an epic journey to a land of promised liberation. Fusing song and poetry with choreography based on historic and current Black social dances, the piece will be an immersive, participatory cultural experience that is equal parts ritual performance, processional and protest.
Visit www.nationalblacktheatre.org
Image courtesy of NBT