National Dance Week Kick It Rockette Challenge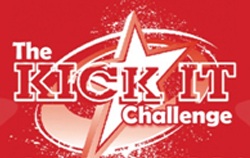 The National Dance Week Foundation Rockettes 85th Celebration 'Kick It' categories have been announced.
The categories include: under 6, ages 7 – 13, ages 14 – 18, longest line, most votes, Rockettes favorite, college dance team, cheer team/dance team, 9-5….anyone over 21 not in school, most unique, and fitness class.
Pick your category for NDW's Kick It Challenge and demonstrate your support of the 85th Rockette Celebration and their belief that "together we are better."
Just by practicing and performing a Kick Line, you will experience the epitome of team work and will help promote National Dance Week Foundation's mission to "celebrate dance and promote fun fitness!"
Be a part of this tremendous dance milestone happening in November 2012, and honor four and a half decades of dancers that have achieved their lifelong dream of becoming a Rockette through hard work, determination, dedication and dreaming big!
For more information visit www.nationaldanceweek.org.