Native choreographer creating new dance to honor Indigenous world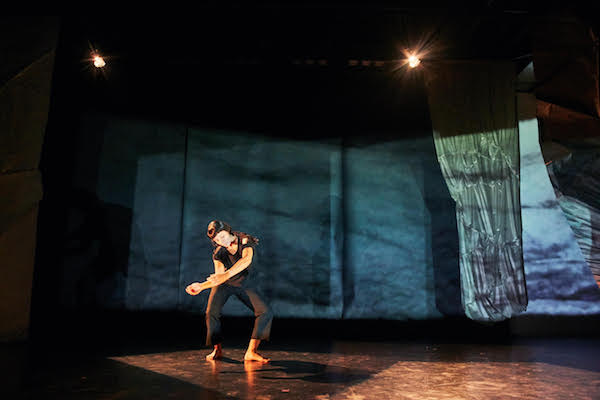 Rosy Simas, an award-winning Haudenosaunee (Seneca Nation, Heron Clan) choreographer based in the Twin Cities, is developing a new full-length dance performance, Weave, to honor the interwoven and interdependent nature of the Native world. Individual Indigenous histories will be woven into a performance that envelops the audience in an immersive experience of story, dance, moving image and sound.
Surrounding Weave's premiere will be a series of community engagements and arts education activities that will build upon Oyate Okodakiciyapi (meaning "people coming together" in the Dakota language)—a project recently co-curated by Simas and Ordway Center for the Performing Arts—by fostering more opportunities for youth and adults in the region to meaningfully engage in Native contemporary choreography. The Weave process begins with a two-week community residency at The O'Shaughnessy at St. Catherine University with public events June 21-28, and ends with a world premiere performance at the Ordway on January 12, 2019.
Simas said, "We invite Native people to participate in the residency to help us create a piece telling our stories. When Native artists create work for Native audiences—a natural process prior to colonization—we disrupt expectations about who is deemed worthy and appropriate to receive the gift of art. When broader audiences are welcomed into that space of creation, alongside Native people for whom the work was created, there is a deepened intimacy, a conversation shared, the universal revealed through the specific."
For many Indigenous peoples, weaving is a way of life, an individual and communal act in which cultural stories and tribal knowledge are conveyed. Stories within cultural materials seem invisible, intangible, until they are made and shared. At a time when Native histories and cultures are still too-often marginalized or exploited, and Native people lead the way in protest and protection of our water for all, in Weave, Simas said she will "further the visionary work of those who long-ago negotiated our treaties for the sake of future generations. Our movement sovereignties ensure continued survival for our peoples, dances and lands."
During the upcoming year of development, Simas will employ a Native circular model of creation (birth-life-death-birth). She will work cyclically (research-rehearsal-performance-research), with community participation in multiple cities informing the process via workshops, open rehearsals, interviews and online discussions. Weave community engagement activities will strive to increase awareness of the intergenerational trauma caused by Indigenous adoption, missing Indigenous women, and Native American treaty violations by the United States and Canada.
Weave will craft Native stories though Simas' embodied lens as a Native feminist movement and image-maker. The Weave Creative Team includes Ahimsa Timoteo Bodhrán, writer; Heid E. Erdrich, writer; Zoë Klein, performer; Sam Mitchell, performer; Valerie Oliveiro, performer; François Richomme, composer; Rosy Simas, choreographer; and George Stamos, performer.
Weave is being created in residencies at The Cowles Center for Dance and the Performing Arts (Minneapolis), McKnight Fellowships Residency at MANCC (Tallahassee), O'Shaughnessy at St. Catherine University (St. Paul) and the Ordway (St. Paul). Advisors and a Project Coordinator with deep ties to Native and Indigenous Communities will design engagement events that bring audiences and performers together specifically to draw Native people deeply into Weave. This will be community engagement driven by Native people—including public workshops, artist-centered discussions and informative talks, and open rehearsals. Native foods will be offered and performances will open with a spiritual/cultural advisor's speech, so that community engagement takes a meaning beyond audience development.
Weave will be site-specific. And "site-specific" for Simas is more than a location — it is the community that occupies the space, the territory and the Native history of the place.
Additional site-specific iterations of Weave will be created for Allegany Seneca Territory (Seneca National Cultural Center), Birmingham (The Alabama Dance Council), Washington D.C. (Dance Place), Maui (Maui Arts & Cultural Center), Oahu (PA'I Foundation) and Philadelphia (Intercultural Journeys).
Ordway Center for the Performing Arts received an NEA Art Works grant for Simas to develop and present the project. The Art Works category is the NEA's largest funding category and supports projects that focus on the creation of art that meets the highest standards of excellence, public engagement with diverse and excellent art, lifelong learning in the arts, and/or the strengthening of communities through the arts.
Shelley Quiala, the Ordway's vice president of School, Community and Family Programming, said, "The national support and attention that Weave has garnered is indicative of the importance and urgency of this profound subject. We are deeply honored to be presenting new work by Rosy Simas, an essential truth-telling voice in these times. And we are proud to be partnering with The O'Shaughnessy on this project."
RESIDENCY SCHEDULE
Public Events at The O'Shaughnessy at St. Catherine University
2004 Randolph Avenue, St. Paul, Minnesota
Thursday, June 21, 2018
12-1 PM OPEN REHEARSAL
5-6 PM OPEN REHEARSAL
Saturday, June 23, 2018
10-11 AM MOVEMENT WORKSHOP
12:30-1:30 PM OPEN REHEARSAL
Sunday, June 24, 2018
12:30-1:30 PM OPEN REHEARSAL
2:30-3:30 PM MOVEMENT WORKSHOP
Monday, June 25, 2018
12-1 PM OPEN REHEARSAL
5-6 PM OPEN REHEARSAL
Wednesday, June 27, 2018
12-1 PM OPEN REHEARSAL
5-6 PM OPEN REHEARSAL
Thursday, June 28, 2018
12-1 PM OPEN REHEARSAL
5-6 PM OPEN REHEARSAL
Additional community-based events to occur September 2018 through January 2019. Visit oshag.stkate.edu or rosysimas.com for more information.
Photo: Rosy Simas in Skin(s). Photo by Uche Iroegbu, courtesy of Intermedia Arts.