New Choreographer for Spider-Man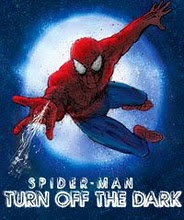 The producers of the troubled Broadway musical Spider-Man: Turn Off the Dark have made yet another change, brining in a new choreographer Chase Brock. The ill-fated musical has had a string of disasters attracting news coverage from around the world because of its record-setting budget (more than twice that of any other show), safety concerns with four performers seriously injured and the resignation of its star-studded cast. Director Julie Taymor was even fired after nine years of work on the show!
Chase Brock has Broadway credits as an assistant to choreographers and as a dancer, but this new gig could be his highest profile job to date, after choreographing a best-selling Wii game, Dance on Broadway.
With Chase Brock on-board the producers have now announced a new official opening night date , June 14. However after six delays I wouldn't hold my breath! The $65 million musical will end up having more than 180 preview performances (the most in history) under the new schedule. So far, roughly 180,000 people have seen the musical.