New Mexico's Choreographic Center draws national talent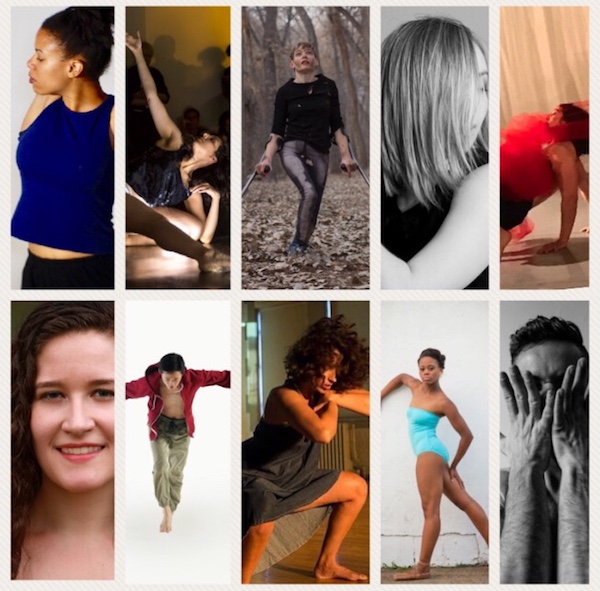 The Keshet Makers Space Experience expands in 2018 with 10 choreographers (Makers) from throughout the United States each spending 10 days at the Southwest's newest Choreographic Center, Keshet Dance and Center for the Arts in Albuquerque, New Mexico.
Keshet recently announced the 2018 selected Makers: Anat Shinar (Minneapolis, MN); Julianna Bulgarelli (Los Angeles, CA); Bradford Chin (San Francisco, CA); Marissa Brown (Brooklyn, NY); Amal Rogers (Minneapolis, MN); Taylor Mitchell (Chicago, IL); Kayla Harley (Washington, DC); Sarah Hogland (Albuquerque, NM); Tanya Winters (Austin, TX); and Kaitlyn Flynn (Pittsburgh, PA).
During the residency period, Makers will have access to daily rehearsal space, technique classes, business training, and peer support as they develop new work. Makers receive housing thanks to Keshet's long-time sponsor, Hampton Inn University-Midtown, and programming thanks to the support of Albuquerque Community Foundation's Mayor's Prize for Entrepreneurship and an Economic Development Award from the New Mexico Gas Co. Inc. – an Emera Company.
Keshet Dance Company was founded in 1996 by dancer and choreographer Shira Greenberg. In 2012, Greenberg secured a $1,000,000 investment from the U.S. Department of Commerce's Economic Development Administration to establish the Keshet Center for the Arts and launch the Keshet Ideas and Innovation Community (KIIC), a business incubator and resource center for arts entrepreneurs. With additional investments from Bernalillo County's Local Economic Act, Keshet purchased the old Duke City Studios – a 30,000 square foot film soundstage in Midtown Albuquerque and began the process of transforming the facility into multiple rehearsal studios with sprung dance floors and a 230-seat black box theater.
Following Keshet's move to Midtown, multiple new businesses began opening on the same block – restaurants, breweries and the largest indoor climbing gym in the Southwest. Together with Keshet they have established the Midtown Arts and Entertainment District collectively attracting thousands of visitors each week. Keshet has since moved its full home season to the Keshet Center for the Arts, and has opened its doors to multiple local and global artists and arts organizations needing space, resources, training and support. Upon launching the Keshet Ideas and Innovation Community, Keshet's goal was to help create 100 jobs in the arts of the first 10 years of the program's operation. Surpassing this goal, Keshet has helped create 173 jobs within the first five years.
The Keshet Makers Space Experience was piloted in 2015 with experimental iterations in 2016-2017. After gathering feedback from pilot program participants, and exploring current initiatives by other choreographic centers throughout the country, the 2018 Makers Space Experience was crafted to address not only the challenge faced by many dancers and choreographers – finding adequate and affordable space to create work – but to also address sustainability. Crucial business knowledge is often left secondary (or non-existent) in the conversation of creating dance. However, this approach leaves the choreographer struggling, unnecessarily. What is unique about the Keshet Makers Space Experience is it combines the physical creative space along with concentrated KIIC resources within the cohort periods to provide business education for the visiting dance entrepreneurs. Topics such as marketing/branding, intellectual property law, budgeting/finance management, business plan development, and fundraising are covered during the cohort periods.
Greenberg said, "I'm thrilled that dancers from across the United States can join us in New Mexico to build relationships and create together within the Keshet Makers Space Experience. The creation process is so magical, and one of the many exciting elements of this residency is there is no definition or expectation around what is getting made. The 'making' might be new ideas, new moments, new failures, new experiences, new questions, potentially new answers and sometimes even new finished work. But the possibilities are endless. The community at Keshet is one that embraces risk-taking and fluidity, so we are thrilled to bring choreographers from around the country to work in this concentrated manner together."
She continued, "Additionally, we are excited to dig into important business learning with each of the cohorts. This is such an important element of dance making – to expand the definition of choreographer as an arts entrepreneur can seem daunting, but artists already have the creative thinking and adventurous spirits necessary for entrepreneurship, so by default artists make great entrepreneurs! It's often just a matter of adding new context and new vocabulary in order to find comfort in that expanded way of thinking and letting that complement one's dance making."
The 2018 Makers Space Experience cohort groups will be convening at Keshet Dance and Center for the Arts on January 26 – February 5 and February 22 – March 4, 2018. Makers from Cohort One will be sharing some of their work in Keshet's Choreographers' Showcase weekend on February 3 and 4. Makers in Cohort Two will be joined by members of Switzerland's KaosPilots, one of the world's premier alternative business schools. For a list of Master Classes and Business Workshops open to the public during the cohort periods, visit keshetarts.org.
Artist photos courtesy of Keshet.