Nominees announced for 30th Bessie Awards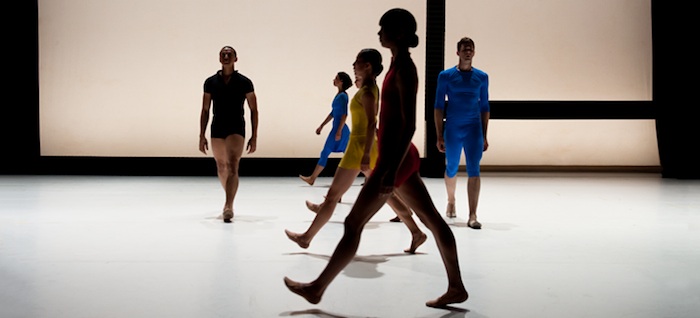 The New York Dance and Performance Awards, also known as The Bessies, are NYC's premier dance awards honoring outstanding creative work in the field. On Wednesday, July 16, the 36 nominees for the 2013-14 season were announced at a press conference by members of The Bessies Selection Committee. The nominations (listed below) were selected by an independent committee of 40 dance industry professionals.
Produced in partnership with Dance/NYC, Bessie Award categories include Outstanding Performer, Outstanding Production, Outstanding Visual Design, Outstanding Music Composition or Sound Design and Outstanding Revival.
The 30th Annual Bessie Awards, described by The New York Times as "the dance world's version of the Academy Awards," will take place on Monday, October 20 at 8 p.m. at the legendary Apollo Theater in New York City. The 2014 ceremony will mark The Bessie Awards' fourth year at the Apollo Theater.
One 2014 award was also presented at the press conference – the fourth annual Outstanding Emerging Choreographer Award. Previous recipients include Beth Gill (2011), Rashaun Mitchell (2012) and Joanna Kotze (2013). This year, the committee's vote was tied and selected two of the nominees to receive the Outstanding Emerging Choreographer Award. The first recipient, Jessica Lang, was recognized for the elegant works created for her newly formed company of dancers at the Joyce Theater in her transition from freelance choreographer to artistic director. Additionally, Jen Rosenblit was recognized for a Natural dance, performed at The Kitchen, for a confident voice investigating the fluidity of identity, the pulse of time and the nature of what it is to dance.
The Juried Bessie Award Committee, a jury of three acclaimed choreographers responsible for deciding on a single work or choreographer that exhibits interesting and exciting ideas in dance in New York City, was also announced. This award will invite the honored dance maker to theaters outside of the city for future touring and residencies, providing the tools to move forward in their creation. The 2014 Bessie Jury is Tere O'Connor, Annie-B Parson and Eduardo Vilaro.
Outstanding Performer
Maggie Cloud
in Passagen by Pam Tanowitz

Sean Donovan
in the work of Witness Relocation, Jane Comfort, Faye Driscoll and others
Julia Hausermann
in Disabled Theater by Jerome Bel and Theater HORA
Sean Jackson
in Rhythm in Motion by Lisa LaTouche
Mickey Mahar
in the work of Miguel Gutierrez, Adrienne Truscott, Ryan McNamara and Gillian Walsh
Angela "Angel" McNeal
for her hip-hop battle improvisations at Harlem Stage E-Moves 15 Battle

Sara Mearns
of New York City Ballet

Aakash Odedra
in Get on the Good Foot, organized and shaped by Otis Rasheed as part of A Celebration in Dance at the Apollo Theater

Tiler Peck
of New York City Ballet
Rebecca Serrell-Cyr
in Fire Underground by Donna Uchizono
Linda Celeste Sims
of Alvin Ailey American Dance Theater

Stuart Singer
in Within Between by John Jasperse

Outstanding Music Composition/Sound Design
Complete, with guitarist Giuliano Modarelli
for Exit/Exist choreographed by Gregory Maqoma
G. Lucas Crane
for This Was the End created by Mallory Catlett
Steven Taylor
for Aubade choreographed by Douglas Dunn
Nicholas Young
for his inventive tap 'percussion platforms' in Rhythm in Motion
Outstanding Revival
Dark Swan
by Nora Chipaumire
The Joyce

Myth or Meth (or Maybe Moscow?)
by Radiohole
Tom Murrin Full Moon Performance Festival at La MaMa
State of Heads
by Donna Uchizono
New York Live Arts

Bach Partita
by Twyla Tharp
American Ballet Theatre

Outstanding Production
Asase Yaa African American Dance Theatre
Djembe in the New Millenium
Kumble Theater for the Performing Arts
Camille A. Brown
MR. TOL E. RAncE
Kumble Theater for the Performing Arts

Mallory Catlett
This Was the End
The Chocolate Factory
Liz Gerring
Glacier
Montclair State University
Maria Hassabi
Premiere
The Kitchen

John Jasperse
Within Between
New York Live Arts

Anne Teresa de Keersmaeker
En Atendant/Cesena
Brooklyn Academy of Music

Akram Khan
Desh
Rose Theater, Jazz at Lincoln Center
Sarah Michelson
4
Whitney Museum of American Art
MIMULUS Cia de Danca
Dolores
The Joyce

Okwui Okpokwasili
Bronx Gothic
Danspace

Aki Sasamoto
Sunny in the Furnace
The Kitchen

Outstanding Visual Design
Thomas Dunn
for New Work for the Desert by Beth Gill
Patricia Forelle with Jenny Mui, Avram Finkelstein, and Kathy Morganroth of YMX by Yellowman; and Nicholas Vermeer, Olivia Barr, and William Ward of NYC Resistor
for Vectors, Mary, and Snow by Brooklyn Ballet
Peter Ksander, Olivera Gajic, Ryan Holsopple, Chris Kuhl, and Keith Skretch
for This Was the End by Mallory Catlett

Tim Yip
for Desh by Akram Khan

Outstanding Emerging Choreographer
Rashida Bumbray
for The Little Red Rooster in a Red House
Harlem Stages E-Moves 15

Jessica Lang
for the formation of her own company and its inaugural season
The Joyce

Jen Rosenblit
for a Natural dance
The Kitchen

Gillian Walsh
for Grinding and Equations: Two Duets at Abrons
Abrons Arts Center
For more information on the 30th Bessie Awards, visit https://www.dancenyc.org.
Photo: Jessica Lang Dance performing Lines Cubed. Photo by Takao Komaru Photography.