Northwest Dance Project calls for dancemakers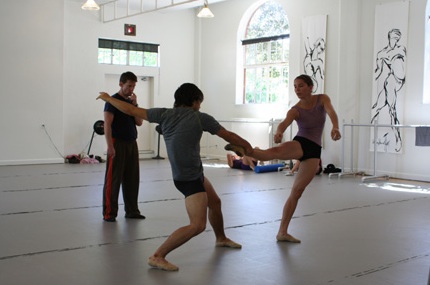 Northwest Dance Project announces a call for entries for its 6th annual Pretty Creatives International Choreographic Competition to identify two emerging choreographers who will have the opportunity to create an original work during LAUNCH: 9.
Northwest Dance Project is committed to working with artists of diverse experiences and backgrounds, and utilizes its Pretty Creatives International Choreographic Competition as a means of helping to develop new voices in dance. Previous winners include Maurice Causey, Loni Landon, Lauren Edson, Pedro Dias, James Gregg, Marina Mascarell, Gregory Dolbashian, Hanna Kiel, Robyn Mineko William, Alex Soares, Simone Orlando and Yin Yue.
Selected choreographers will participate in a six-day summer residency on July 14-19 during the company's innovative LAUNCH: 9 project. During the residency period, selected choreographers will have three hours of creative time per day and an open forum to develop and create new choreographic material. An informal presentation of the resulting "works-in-progress" or completed pieces will be shown on the final day. This in-studio presentation is open to the public and has become quite popular. Choreographers will work with all visiting LAUNCH: 9 dancers, but choreography can be developed on a smaller group of dancers as well.
Northwest Dance Project's Artistic Director Sarah Slipper will help guide the residency. The residency includes: creative honorarium, six days of rehearsal time with dancers (18 hours total), travel to and from Portland, per diem and accommodation.
To apply for this choreographic opportunity, submit: a DVD (or online links) of video(s) of recent choreographic work
 (one or multiple works, not to exceed 10 minutes), a current résumé (plus a choreographic biography), a brief proposal (no longer than one page) of choreographic intent, and the $35 application fee. The submission deadline is March 28. Winners will be announced in April 2014.
For specific submission guidelines and information, visit nwdanceproject.org or email info@nwdanceproject.org.
Photo: Maurice Causey of Nederlands Dance Theater (winner of the 2009 Pretty Creatives International Choreographic Competition) works with select LAUNCH dancers on This is What Happens. Photo courtesy of Northwest Dance Project.