Nvitational Dance Festival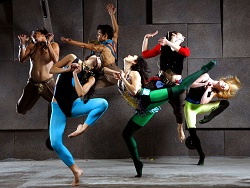 El Portal Theatre and Artistic Director Dee Caspary present the first annual Nvitational Dance Festival from July 29 through August 14 in Los Angeles. The Nvitational will be a series of collaborative events featuring dance from America's best, boldest, edgiest, and fiercest choreographers including the festival's Artistic Director, Dee Caspary and notables Marty Kudelka, Mandy Moore, Kitty McNamee, Ryan Heffington, Bubba Carr, Peter Chu, Tabitha and Napoleon, Tovaris Wilson, Kevin Maher, Eddie Garcia, Justin Giles, Scott Hislop, Terry Beeman, Jennifer Hamilton, Dana Wilson, Adam Parson, Nina McNeely, Helene Phillips, Erica Sobol, David Moore, Tessandra Chavez, Mark Meismer, Amanda Leise, Gustovo Vargas, CJ Salvador, Kim DelGrosso, Wes Veldink, and more to be announced.
These choreographers and their work have been seen worldwide on music videos and concert tours; on stage for operas and musical theatre; and the hit American television shows So You Think You Can Dance, Dancing With the Stars, and America's Best Dance Crew. For the first time, these choreographers will collaborate on world premiere dance pieces with each other, featuring dancers from their own companies as well as 75 hand-picked dancers from across the country.
Information and tickets are available online at www.elportaltheatre.com and www.thenvitational.com or by calling 818-508-4200 or 866-811-4111.
Dance Informa is a proud sponsor of The Nvitational.
Photo:Hysterica Dance Company, choreographer Kitty McNamee appearing July 29-31 on the MainStage