NYCB Art Series features French artist JR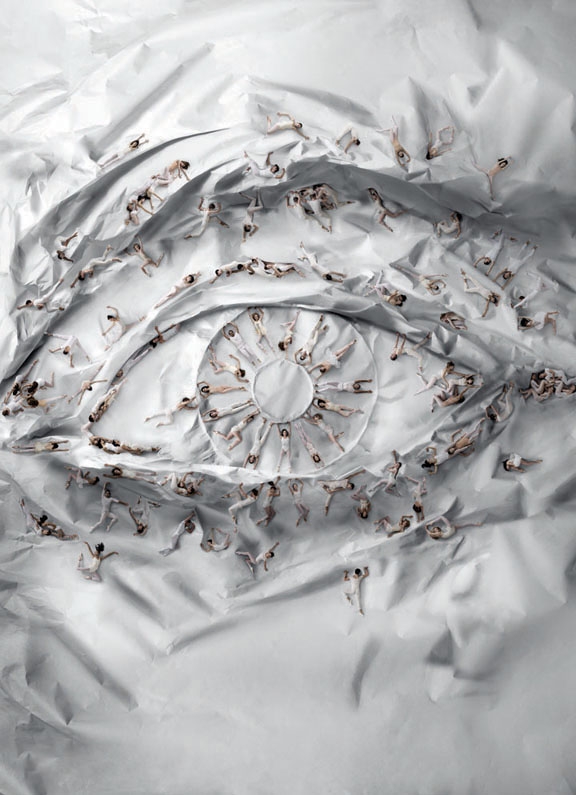 New York City Ballet presents the second installation of its acclaimed Art Series initiative during the company's 2014 Winter Season. Conceived in 2013, the New York City Ballet Art Series features annual collaborations between NYCB and contemporary visual artists who create original works inspired by NYCB that are then exhibited at the company's home, the David H. Koch Theater, at Lincoln Center.
For the 2014 Art Series, NYCB has commissioned an installation from JR, the French-born artist best known for his grand-scale public photography projects and as the recipient of the prestigious TED Prize in 2011.
For his NYCB Art Series creation, JR has photographed more than 80 of New York City Ballet's dancers, and has used their images to create a large-scale installation that is now displayed in various areas of the theater.
The centerpiece of the installation is an enormous image (6,500 square feet in size!) featuring all of the dancers. It is now displayed on the theater's Promenade.
NYCB will hold three special Art Series performances – first on Thursday, January 23 with performances of Kammermusik No. 2, the After the Rain pas de deux, Concerto Barocco, The Infernal Machine and Rubies; then on Friday, February 7 with performances of La Stravaganza, A Place for Us and Todo Buenos Aires; and lastly, on Thursday, February 13 with performances of Opus 19/The Dreamer, Barber Violin Concerto and Stravinsky Violin Concerto. Audience members attending each of these performances will receive a limited-edition commemorative piece of art created by JR for the occasion. All single tickets for these NYCB Art Series performances are priced at just $29 and are available at nycballet.com or by calling 212-496-0600.
The installation will be on display during all performances taking place during NYCB's 2014 Winter Season, now through March 2.
The David H. Koch Theater at Lincoln Center will also hold one week of open hours for the general public to view the exhibition free of charge on the following dates: Sunday, February 2 through Sunday, February 9, with hours on Sundays from 10 a.m. to 1 p.m.; Monday to Friday from 10 a.m. to 5 p.m.; and Saturday from 10 a.m. to noon. For more information, visit nycballet.com.
Image created by JR for the 2014 Art Series, featuring the dancers of the New York City Ballet. Image courtesy of the New York City Ballet.