NYCB Art Series to feature Dustin Yellin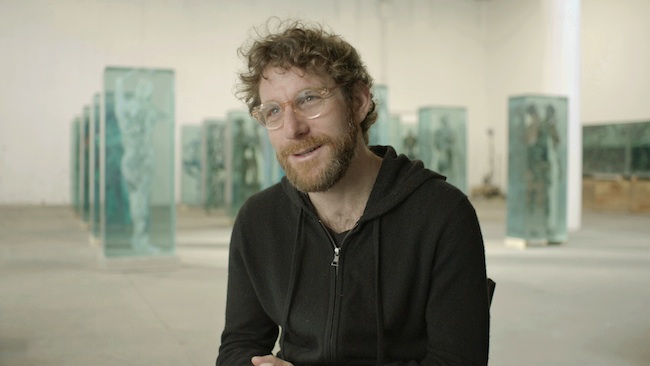 New York City Ballet will present the third installation of its acclaimed Art Series initiative during the company's 2015 Winter Season. Launched in 2013, the New York City Ballet Art Series features annual collaborations between NYCB and contemporary visual artists who create original works inspired by NYCB for exhibition at the company's home, the David H. Koch Theater at Lincoln Center.
For the 2015 Art Series, NYCB has commissioned an installation from Dustin Yellin, the Brooklyn-based artist and founder of Red Hook's Pioneer Works. Yellin's body of work, which includes paintings, drawings, installation, performance and sculpture, has been exhibited in numerous museums and galleries in New York, as well as internationally.
For the 2015 Art Series installation, Yellin will exhibit 15 works created as part of an ongoing project that when finished will consist of 100 large-scale glass and mixed-media sculptures each weighing more than 3,000 pounds.
Yellin calls the sculptures, which resemble multi-dimensional human forms encapsulated in suspended animation, Psychogeographies, as they feel like maps of the psyche.
The installation will be on display from January 20 through March 1 during all of NYCB's 2015 Winter Season performances. NYCB will also host free, open hours for the general public to view the exhibition on the following dates: Thursday, February 12 through Sunday, February 22 – Mondays through Fridays from 10 a.m. to 5 p.m.; Saturdays from 10 a.m. to noon; and Sundays from 10 a.m. to 1 p.m.
In addition, NYCB will hold three special Art Series performances, which will take place on: Thursday, February 12 (All Balanchine – Serenade, Agon and Symphony in C); Thursday, February 19 (Peter Martins' Hallelujah Junction, Christopher Wheeldon's A Place for Us and Jerome Robbins' Interplay and Glass Pieces); and Friday, February 27 (Alexei Ratmansky's Pictures at an Exhibition, a new work by NYCB Resident Choreographer Justin Peck and Christopher Wheeldon's Mercurial Manoeuvres).
Single tickets for the NYCB Art Series performances are priced at just $29 and are on sale now. All audience members attending these three performances will also receive a special limited-edition takeaway created by Yellin to commemorate the NYCB Art Series collaboration.
Photo: Dustin Yellin, New York City Ballet's 2015 Art Series collaborator. Photo courtesy of NYCB.